If you have a dog in your family, they may require a dog coat. These items are much like our coats since they should be practical to use and comfortable for the animal while protecting them from the elements. 
A dog coat will help maintain your animal's body heat, especially in very cool or cold weather. It can protect their skin from rain or snow and even help reflect light during walks in the dark. Not every dog will need a coat, but there are many reasons why they are beneficial. 
Dog coats and sweaters can act as an extra layer of protection for many different breeds. Reasons for this accessory will vary depending on their age, the current climate, type of dog, and any health conditions.
11 Of The Best Dog Coats
Finding the best dog coats in 2021 is easy with our guide. If you need a waterproof dog jacket or one that will help keep them warm, our list can help you decide which item will work best for your furry friend.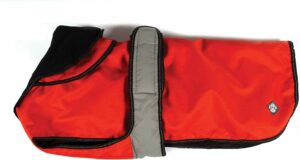 This versatile dog coat is terrific in any weather. It has a polar fleece insert to add during those cold winter months but is easy to remove when not needed. The fabric is waterproof, windproof, and breathable, making it the best water-resistant option for your pet.
This jacket from Danish Designs has adjustable velcro fasteners that help secure it in place. There is no chance of it slipping off your dog with the built-in leg straps that keeps your pet protected and comfortable. Remove the liner easily to use the outer shell and protect your animal from those rainy day walks. This feature makes the Danish Designs dog jacket perfect for many seasons. 
Pros
Bright orange colour

Adjustable size

Versatile for wet and cold weather
Cons
It does not suit very small dog breeds

You cannot use the polar fleece liner on its own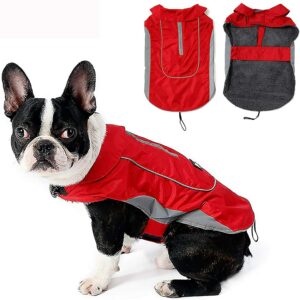 If your pet uses a harness for their daily walks, you will need a dog jacket to accommodate it correctly. With the Morezi Warm Waterproof Coat for Dogs with Harness Hole, you no longer have to try and put a harness over a coat to keep them warm and dry on their walk.  
It is available in seven different sizes for any dog breed, with six colors to choose from, making it functional and stylish. It contains polyester with a fleece lining, which makes this dog jacket durable to last. This Morezi Warm Waterproof Coat includes reflective piping trim so your pet will be visible outdoors even with low lighting conditions. It includes a warm inner layer to keep their core temperature regulated while the outer waterproof layer keeps them dry. 
Pros 
Reflective trim for walks in low light

Harness hole

Adjustable band to fit a wide variety of dog breeds
Cons 
The tail loop is not adjustable 

Not intended to stay outdoors in wet weather for a long time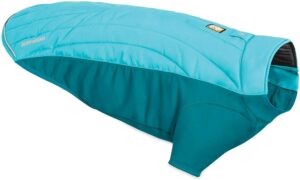 This RUFFWEAR Insulated Water-Resistant Cold Weather Coat is the item your pet needs on those cold mornings. With the protective shell and the stretch fabric for ease of motion, your animal will be protected and be comfortable during walks or running outside in cold weather. If you have an active dog, this item is for you. 
It has a full-length zipper to ensure that it stays snug during movement and includes front sleeves to keep out drafts, and helps maintain your dog's core temperature. The nylon-spandex material blend ensures your pet can move freely while still keeping warm. It is available in six different sizes and colors, making it the perfect addition to keep your pet comfortable during cold outings.
Pros 
Front leg sleeves

Full-length zipper for a snug fit

Has flexible material for easy movement 
Cons 
Machine wash on gentle only, hang to dry only 

The zipper may snag dog hair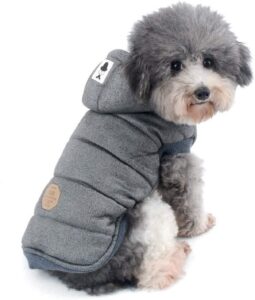 If you have a small dog in your home, having a warm jacket is vital to keep them comfortable while they are outdoors. Ranphy offers the perfect solution with their 2 Legged Hooded Dog Coat for Cold Weather that will protect your pet from the elements and keep them warm. 
This hooded coat is available in five different sizes and three colors to choose from for many toy and small dog breeds. Allow your pet to be stylish and warm during your cold walks with the fitted front legs that help keep out any drafts. It is easy to put on and take off with a 3-snap enclosure on the underside. 
Pros 
It is extremely thick for the warmest coat possible

Front leg sleeves keep out drafts

Durable material 
Cons 
Dogs with lots of hair will need a size larger

Does not adjust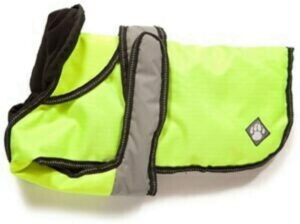 No matter what breed of dog you have, this coat from Danish Designs will fit them perfectly. This model is suited for pets that require a 16" length, but it is also available in 11 other sizes ranging from 10" up to 30". It has full chest protection for the ultimate dog jacket your pet needs when they are outside during dawn or dusk. 
This item is the best reflective coat for those walks during dawn or dusk where light is not optimal. Ensure that your pet is visible with its reflective beading and fastening straps for ultimate safety. The removable polar fleece liner makes this waterproof jacket ideal for warm and cold rainy days, no matter what season it is.  
Pros 
Includes highly visible reflective beading and straps

Versatile for all weather with the removable fleece liner

Keeps your pet dry and warm with the waterproof and windproof material 
Cons
It does not have an access point for a harness, only a collar 

If not fitted properly, can rub on your dog's legs or neck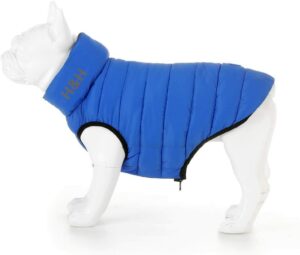 If you want your dog to match your sense of style while protecting them from the elements, the Hugo & Hudson Puffer Jacket is a perfect choice. This fully reversible puffer coat is made with 100% nylon material to repel water and keep them dry. It uses high-quality stuffing to provide the warmth they need while outdoors. 
The easy zip feature makes putting it on and taking it off a breeze. It includes a hole at the neck base to attach a leash to your pet's collar. This puffer jacket is easy to clean by throwing it in your washing machine; there is no need for special cleaning methods. Reverse this dog jacket to explore a different style on your daily walks. 
Pros 
Stylish and colourful 

Completely waterproof

Reversible 
Cons 
It could incur rip or tear damage from tree branches or other objects while outdoors

The zipper closure can catch or pull the dog's hair if not careful when using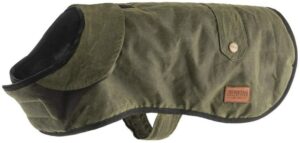 For pet owners looking for a traditional blanket style jacket, this high-quality Anchol Heritage Green Wax coat is the solution. Its fleece lining keeps your dog warm, while the waxed outer surface helps repel water to keep them dry on those wet days. 
The hook and loop adjustment strap make it easy to put on and take off your pet. The velcro straps can adjust to get the perfect fit for your dog. The leg straps keep it in place during those long walks. The Ancol Heritage Green Wax Coat carries a pleasant wax smell that is identifiable to high-quality wax jackets. This stylish wax coat will be the envy of all your dog friends. 
Pros 
Classic blanket style coat 

Comfortable wear for any breed

Excellent water-repelling properties 
Cons 
It needs to be waxed again after washing to ensure the water-resistant ability 

It only comes in one size and colour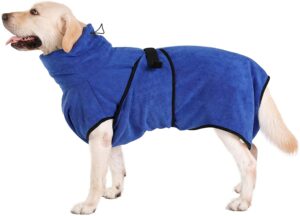 If you are tired of your wet dog shaking all over your house after a walk or bath, the Kaka mall Microfiber Quick Drying Dog Coat is ideal. Its super absorbent microfiber material holds up to 8x its weight as it soaks up any water remaining in your pet's fur. 
How many times have you been out for a walk with your dog and gotten caught in the rain? This versatile microfiber jacket will get your furry friend dry in no time at all. This drying coat is easy to wash and dry in your laundry to keep it fresh and ready for the next time you use it. Use this item as the ultimate tool after your dog's bath to help speed up the drying process. 
Pros 
Adjustable drawstring neck hole and belly fastener tape for a proper fit

Soft and comfortable 

Durable material 
Cons
Is not water-resistant 

Only available in one colour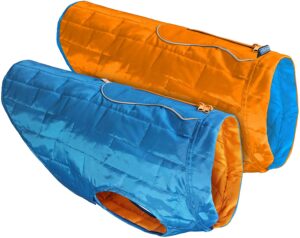 For dog owners who want variety in a lightweight and durable dog coat, the Kurgo Loft Reversible Dog Jacket is the ideal solution. With eight different color combinations to choose from, you are sure to find a stylish item that will protect your pet from the elements. The water-resistant material is breathable and allows your dog to move during wear. 
This reversible dog jacket is made with high-quality ripstop nylon material, making it durable and functional to keep your pet warm when they are outdoors. It has an adjustable hook and loop closure so you can get the perfect fit no matter what dog breed you own. It contains reflective strips to help keep your pet visible when daylight is low. 
Pros
Lifetime warranty 

Reversible and versatile 

Zipper access for harness 
Cons 
Outer material may tear when contacting tree branches or brush 

Have to pull the jacket over the dog's head to put on and take off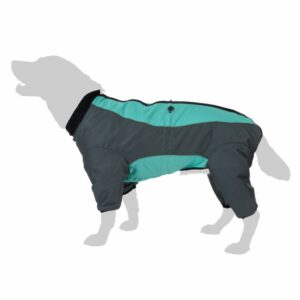 Zooplus has a terrific variety of waterproof dog coats for any size or breed. From quilted choices to overalls and shells, you are sure to find one that will suit your pet's needs. Keep your animal warm with a raincoat from Zooplus that includes an extra fleece lining. 
If you need a jacket for visibility, their high-viz neon choices are perfect. All of these products are great at repelling water as you head outdoors on those rainy days. The breathable material keeps your pet comfortable during use. 
Pros 
Several styles and options to choose from

Perfect for cold and wet weather

Fully adjustable for the perfect fit
Cons 
Machine washable in cooler water only

Features like the high collar or adjustable leg straps may both your pet if not secured properly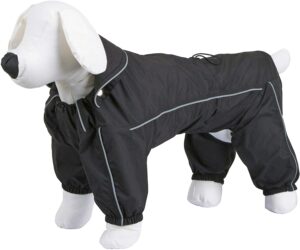 For a waterproof and windproof dog jacket, the Kerbi Raincoat Machester Overalls is a terrific choice for many pets. The waterproof zipper along the back makes putting on and taking off this item easy. It has elastic drawstring legs for superb comfort and protection from the elements.
This dog jacket is 100% polyester, so your pet will stay dry and warm as the tunnel drawstring across the belly and neck make a snug fit. You will not have to worry about your dog's belly or legs becoming wet any longer. It has removable throat protection and is completely adjustable to suit many dog breeds. This Kerbi Raincoat includes reflective strips for ultimate visibility while they are outdoors. 
Pros 
Removable neck collar guard protection 

Elastic drawstring ensure a proper fit 

Waterproof back zipper
Cons 
No access hole for harness connection 

It does not include a fleece liner
Why Should You Buy Your Dog a Coat? 
Toy breeds or very small dogs require a coat or sweater to keep them warm and comfortable. There are several breed varieties that are native to warmer climates and need additional clothing if they live in areas with cooler weather. 
Puppies are typically quite small. Their legs are shorter, their coat is still growing, and they cannot regulate their body heat completely. If you have a new puppy or a full-grown dog with short legs or fine hair, it will be beneficial to select a dog coat for them. 
Elderly or sick dogs will not be able to withstand cold temperatures for any length of time. When they are outside, opt for a warm coat or sweater to keep them comfortable. Dealing with health conditions, such as arthritis or recovering from surgery, can make facing cold weather more difficult for these animals.
Things to Consider
When shopping for the best dog coats, you should consider these elements before making a final decision. You do not want to spend money on an item that will not work well for your furry friend.
Fit
When you choose a dog coat, one of the most vital factors will be how it fits your animal. It should not pinch around their legs or chafe their skin around their neck or their back. If it is too tight, it will be uncomfortable. But if it is too loose, it will not keep them warm and protected from the elements.
Sizing
If you have any questions about what size you should choose for your dog, talk to the manufacturer. Often they will have a guide with measurements to compare with your animals to find the best size for them. 
If your dog is still growing, you may have to get an alternative size when they are small and another when they are fully grown. A dog coat that is too large or small will not benefit them and can cause problems.
Care Instructions
You may not consider how you will need to care for the dog coat, but it is an element that you should be mindful of. It should be easy to clean since it will get dirty on your outings, and you want to keep it free from dirt, grime, and bacteria.
Reflective or Brightly Coloured
If you enjoy nighttime walks or head out early in the morning at dawn, a reflective or brightly coloured dog coat can help them be more visible. A highly visible colour will also make it easy to spot your furry friend at your local dog park when they are playing with other animals.
Practicality
The style of jacket you want for your four-legged friend should be practical for its intended use. A raincoat will not keep your animal warm during those snow-covered mornings, while a winter jacket will be too much for a brisk fall morning walk.
Design and Ease of Fastening
Putting on and taking off the dog coat is a task that you will have to do often. You want to be sure that the design is not cumbersome, making it hard to get ready for a walk or coming in from outside. Fasteners should be easy to open and close without the risk of pinching your dog's skin or unintentionally scratching them.
Final Thoughts
Dog coats and sweaters are not just for fashion. While there are many styles out there that will look adorable on your furry friend, you should consider other factors besides looks. Sometimes the cutest jacket will not be practical or helpful for your dog. 
Just like our clothing manufacturers, companies that make dog jackets do not have universal sizing. The variations between the similar sizes of different brands can be significant. Just because a medium coat fits your dog from one manufacturer does not always mean they will work when you purchase medium from a different brand. 
Always refer to the manufacturer measurements they supply to size up your furry friend before choosing a dog jacket. By doing this, it will be easier to decide on which jacket will fit your animal. No matter what weather you face or breed of dog you own, there are plenty of choices for your pet.
Frequently Asked Questions
Do Dogs Really Need Jackets? 
Some dogs will need jackets to stay warm while outdoors. The reason could be due to their size, fur, medical condition, or age. Sometimes dogs who do not regularly need jackets when outdoors may require one if they spend a long time outdoors than is normal in their daily routine.
What Is The Best Dog Coat? 
The best dog coat will be one that is comfortable for your pet and is functional. You do not want to purchase a jacket for your furry friend that will chafe or pinch them while they wear it. It should also successfully protect your four-legged family member from the elements.
What Is The Best Winter Dog Coat? 
The best winter dog coat will depend on your climate fluctuations and your pet. Some locations will have mild winters while others are exposed to extreme weather for days at a time. The best dog jackets for the winter months will keep them warm and dry while they are outdoors. 
Ensure that the coat you choose fits them correctly, so there is no way for a draft to bother their neck or back. If you have a small pet with short legs, they will need a winter coat that protects their belly, as well as their back. 
Should I Get My Dog A Winter Coat? 
Before you purchase a winter coat for your dog, you should examine if they need one. Is your dog still a puppy, a toy, or a small breed with short legs and their belly will be in contact with snow often? 
If you have an aging dog who cannot withstand the cold anymore, has a health condition, or is recovering from surgery, they can benefit from using a winter coat. Helping them to regulate their temperature when it is cold outside will keep them comfortable.