When I first got my dog, I started walking him with a collar because that is how my family had always done it. However, this energetic puppy kept choking himself on walks, and I felt terrible. That's when I decided to try a harness, and I have never looked back. 
The best dog harness can allow you to control your dog fully without causing them much discomfort. Harnesses disperse the weight when you pull so the dog doesn't feel direct pressure. This feature makes it safer and easier to correct over excited dogs.
There are many different harness options out there, so it can be tough to find the best style for your dog. The first thing you have to do is find one that will fit your dog. Dogs can be tricky to measure, but it is crucial, so make sure you're doing it right. 
Once you find their size, you want to make sure that you find a comfortable harness for your dog. You may have to try a few out. Every dog moves a little differently, so you want to find something that fits and doesn't rub your dog in the wrong way. 
After you find what your dog likes, you want to get a harness that will help you enjoy your favourite activities with your dog. If you go on walks, hike on trails or drive in your car, different harnesses can help you out. You may even need a few harnesses for various events. 
We will look at eight of the best dog harnesses available for all the different dog sizes and activity levels. Each of these options will help you enjoy walks with your dog, but when you get the right one, it will be fantastic for both of you.
What Are the Best Dog Harnesses of 2021?
We have reviewed the eight best harness options out there for different kinds of dogs and various activities. Here's how they stack up.
Best Adjustable Dog Harness – Julius-K9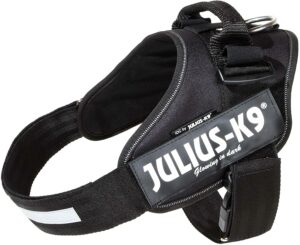 When it comes to a durable and easy-to-use harness, the Julius K9 is pretty beneficial. You can quickly and easily adjust this harness to make sure that it fits every dog. 
The heavy-duty belt is easy to fasten, strong, and durable. A large handle on the back gives you extra control of your dog if needed or lets you help your older friends when they are having a hard time. 
The OEKO-TEX fabric breathes well to keep the puppy cool, and it is water repellent to help in the weather. The straps are also reflective.
You can hold a flashlight or other equipment in a built-in pouch, and you can add two more bags if you want your dog to haul some gear on the walk. 
Pros: 
Simple Design is Easy to Use 

Heavy Duty and Durable 

Water Repellent 
Cons:
Bags Cost Extra 

Only Comes in Black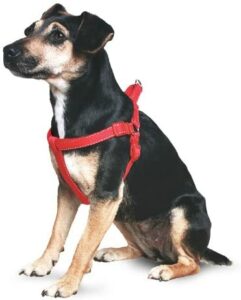 Sometimes you're not looking for flashy features and high-tech gimmicks. When all you want is a basic bare-bones harness, the Ancol gives you the most useful features so that you can strap your dog in and take your walk. 
Due to the basic design of the harness, it is less expensive than some choices on the list. It comes in three different colours, which can let you pick your or your dog's favourite. 
The harness is padded in spots where it may rub your pet, and the stitching is reflective to help them get noticed at night. 
There's not a whole lot to say because this harness makes excellent use of a minimal design that still holds your dog and lets you both enjoy your walk.  
Pros: 
Padding at Crucial Points 

Small and Compact for Easy Storage 

Low Price 
Cons:
Padding Can Affect Sizing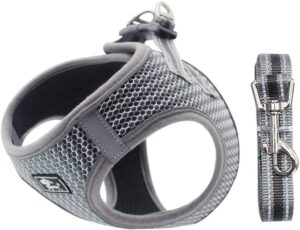 Harnesses and small dogs can sometimes be tricky. Small dogs can wiggle their way out of harnesses made for bigger dogs. The Dociote Universal Harness is excellent for small dogs and even cats. 
It comes in nine distinct colours for you to choose your favourite. Velcro straps can adjust quickly to hold your small pets securely. Velcro is also great for any dog that has sound or emotional sensitivity.   
Reflective straps help make this harness safe for nighttime use, and it is made of high-quality tear-resistant nylon. If you need a harness to bring your smaller dogs on walks, this will fit them well. 
Pros:
Great Colour Options 

Comes with Lead 

Easy to Adjust to Fit Your Pet 
Cons:
Complaints of Harnesses Arriving Irregular and Broken 

Sizing Can Be a Little Small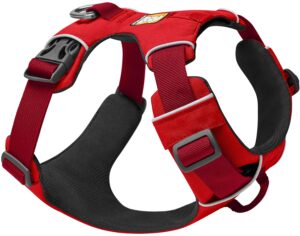 Large dogs sometimes have a hard time in harnesses due to wear spots and rubbing. The Ruffwear Front Range Dog Harness helps you avoid all that with its large straps, extra padding, and big dog design that maximizes comfort. 
You can take your pick of eight fun colours that help your dog shine on the walk. Each harness has two lead points, one on the back and one on the chest, depending on your activity. You have four points of adjustment to make sure the harness fits your puppy on every walk. 
There is an easy-to-access id pocket so you can store your dog's tags for the walk, and the trim is reflective for nighttime outings. The harness does sit a little higher than some, which may annoy some dogs at first. 
Pros:
Fun Colour Options 

Easy to Adjust 

Great Padding for Big Dogs 
Cons:
Durability issues 

Fits Differently than Other Harnesses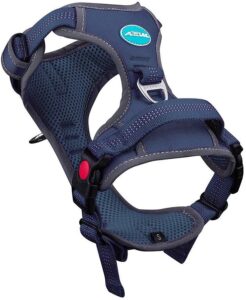 The ThinkPad harness is one of the most customizable options on the list in 13 different colour choices. You will likely be able to find the harness that best matches your dog's unique personality. It also comes in seven different sizes to fit your dog. 
You can use this harness to fully secure your dog and keep them comfortable with the large straps. They designed the straps to distribute pressure so you aren't constantly pulling on the same spots for your dog. 
The harness has a ton of reflective material to keep your dog visible on night walks. Even though the harness covers a lot of your dog, the breathable fabric and extra padding help make it comfortable in most situations. 
On the back of the harness, there is a handle so you can better control your dog. 
Pros:
Plenty of Colour Choices 

Highly Reflective 

Wide Range of Sizes 
Cons: 
Can Be Hard to Put On 

Durability issues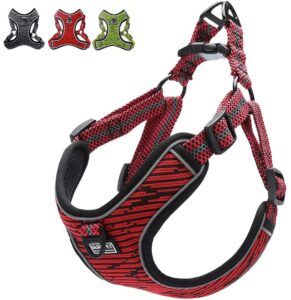 How you put a harness on can be vital for you and your dog. Step-in harnesses are what many owners are familiar with, and they still feel comfortable using them. The large chest section on this harness helps distribute pressure for an enjoyable walk for both you and your dog. 
Suredoo uses a three-layer design that incorporates tough but breathable acrylic with foam padding and air mesh to keep your puppy comfortable and cool. It is easy to adjust, put on, and take off. The whole thing is reflective to keep your dog safe.  
The buckle has an added lock that helps keep the dog in the harness, even when they get extra wiggly. When placing your order, err on the side of too big because these tend to run a bit small. 
Pros: 
Easy to Adjust to Find the Right Fit 

Buckle Locks into Place 

No Pull Design Helps Control All Dogs 
Cons:
Durability issues 

Sizing Can Be Small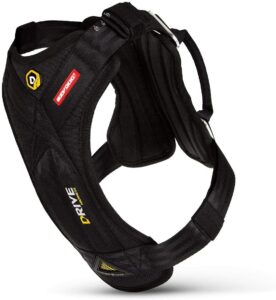 Don't let that price tag scare you off on this one. It made this list because it went through extensive crash testing to ensure it was safe for your puppy. It's more than just a harness that can connect to a seatbelt.
EzyDog designed this harness to the same safety standards that are used for children's car seats. They used seat belt webbing to make sure that it will hold up to the rigours of an accident and still be comfortable. 
You just have to size the harness once. Then the Mag-Lok Instant Fit allows you to get your dog in and out of the car quickly and easily. If you plan on driving with your dog, this harness is essential. 
Though the company added a ton of padding to the harness, it still may not be the most comfortable for long rides, and some dogs try to get out of it on road trips. 
Pros:
Passes All Crash Test Standards 

Extremely Tough Materials  

Easy to Use 
Cons:
Price 

May Be Uncomfortable, Especially for Long Rides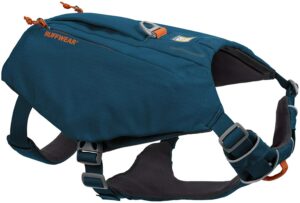 If you and your dog love long walks, hikes, and day trips, the Ruffwear Every-Day Dog Harness provides useful features and extra comfort to increase the fun of every event.
Your dog can help you carry walk essentials with its two expandable pockets, like treats and waste bags. Giving a dog a purpose can sometimes help them enjoy the walk a bit more.
You can pick from two lead attachments, a v-ring on the back of the harness and a loop on the chest panel. It also has a handle on the back so that you can lift the dog easier if you have to help out. 
The harness is made from denier polyester to be rip-resistant and tough. It is a reflective material to help your dog stay safe in low-light conditions.
Pros:
Comes with Pockets for Storage 

Large Woven Straps for Comfort

Offers Two Lead Attachments
Cons:
Can Get Heavy For Small Dogs 

Price
Things to Consider
Picking your four-legged companions' perfect harness can be more challenging than you think. There are a lot of features that go into selecting a harness. 
Safety 
You use a harness to keep your dog safe when you take them out. You want to make sure that the harness can stay on your dog and keep it under control without hurting it.
If you're getting your harness for road trips in the car, this is even more important. You want to ensure that it has been tested for dog safety in case of an accident. 
Size
You want to make sure that the harness fits your dog. Getting the right size is vital for your dog. Most harnesses offer measurements for their product. You can take your dog's measurements by using a measuring tape around the widest part of their chest. 
Most harnesses can be adjusted so you can ensure a great fit.
Durability
You want your harness to be tough. Good dog harnesses can last you for years. If you know your dog likes to chew, you may want to make sure that they can't get a hold of the harness while it's on and that the harness is tear-resistant if they do.
Comfort
You want your dog to feel good in the harness. You don't want it to rub in places, and you don't want it to be too tight or restrictive. Watch your dog for changes in their stride, loss of fur, or chafing. These are all signs that the harness isn't comfortable.
Cost
Everyone lives on a budget, including your puppy. You know what you feel comfortable spending, and there are probably good harness options in that price range. You are going to pay more for more features and testing. More basic harnesses will be cheaper. 
Ease of Putting on and Taking Off 
The first harness I bought was a pain for the dog and me to put on. It meant that we didn't use it as often as we wanted, especially after long days at work. You want walks to be fun for you and the puppy, so getting a harness that is easy to use for both of you is important.
Closing Summary
Getting a harness for your dog is a great way to gain extra control over your dog on a walk without putting additional stress on them or yourself by constantly pulling on their collar. When you find the right one, you will be shocked at how easy it is to guide your dog. 
Harnesses are available at almost every pet store and many department stores. You can also shop for them online, where you may be able to get a wider variety and more colour options. 
When getting a harness, you want to make sure it fits your dog. With a tape measure, wrap it around the broadest part of the chest for girth. Finding the right fit can make all the difference in how well the harness performs. 
Finding the best dog harness can make your dog walks even better than they are now, as hard as that might be to believe. When your dog is having more fun and better control, you will be able to go on more adventures, explore different places, and gain new stories.
Frequently Asked Questions
Is A Dog Harness Better Than A Collar? 
Both harnesses and collars have their uses. If you try to control a dog, especially an energetic one who doesn't always follow directions, a harness can be a better and safer option than a collar. A harness is also less likely to slip off your dog than a collar.
What Is The Best Dog Harness On The Market? 
The best dog harness on the market is very subjective. You need to find the harness that works best for your dogs, including their size and activity level. In the list above, I break down eight different categories and show you the best options in each. 
If I could only pick one, though, the Julius-K9 is the top pick.
Which Dog Harness Is The Best In The UK?
I guess I don't know what makes the UK different from the market as a whole, but regardless the answer remains the same as above, the Julius-K9 is the top pick in dog harness on the market right now, in the UK, and the rest of the world.
Why Are Harnesses Bad For Dogs? 
A harness, like most items, is only as good or as bad as how you use it. If you let a harness get too loose, your dog may be able to slip out. If it doesn't fit right, it may rub on your dog and cause chafing. If you don't clean it correctly, it can be unsanitary. 

If you use it properly, a harness can be an excellent tool for you and your dog. 
How Do I Choose A Harness For My Dog? 
You want to get a harness that fits your dog. It should be in a style that is easy for you and your dog to use, and it should also be designed for the types of activities you want to do with your dog. You also want to make sure it's durable and that it fits your price range.
How Do I Train My Dog To Walk Beside Me? 
To answer that question fully would take a whole new post. The training will take a lot of treats and praise. Get your dog to come and stand by your side with a command, and reward them when they do it, with treats and praise. 
Once they master that, start using it on walks. Make sure you have ample treats at first.  
How Do I Stop My Dog From Pulling On The Leash When Walking? 
One way to stop a dog from pulling is to stop and make them sit anytime they pull at the leash. Don't start walking again until they have calmed down. Reward the dog for good walk behaviour with treats, praise, and longer walks.