A dog collar is more than just a fashion accessory – it's a holder for an ID tag, the place that you attach a lead, and very often a handle to hold when you need a bit of instant "control" over your pet.
They come in varying colours and are made from different types of materials depending on what you need the collar to do. At first glance the amount of choice can be overwhelming – it may seem difficult for you to choose a comfortable, affordable, trendy, and affordable dog collar from the many available.
That's where we come in. This buyer's guide, showing you what we think are the best dog collars of 2021, will help you choose the collar that's perfect for you and your pet. So, whether it's just for a stroll to the park, or a jaunt around an obstacle course that any tough mudder would be proud of, we're here to help.
Remember – it's not just price that we're thinking about here when picking out the best dog collars – it's overall quality and whether they're truly fit for purpose. So, without further ado, here are our top choices.
What Are the Best Dog Collars of 2021?
We have reviewed tons of dog collars in a bid to find the best collar for your dog. In the writing of this review, numerous factors were considered – everything from usability, to functionality, durability and cost. Here's the list.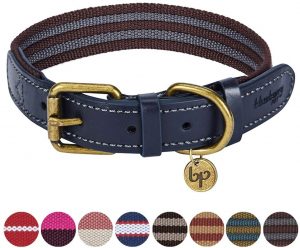 This polyester and leather collar from Blueberry comes in a variety of sizes and colours. The combination of materials gives the look that only real leather can provide, but is much more comfortable to wear thanks to the polyester lining. Cleaning and caring for this collar is easy too, which any dog owner will appreciate! Just give it a wipe with a damp cloth and you're good to go.
Dogs are notorious for testing to destruction, but this collar is hard-wearing and will stand up to even the most excitable of pups. Because it's made with real leather, it can start to show wear over time but this won't affect the durability. The design is simple too, with no bells or whistles to get caught while your best friend is ferreting around in the undergrowth.
One slight downside is that the coating on the D ring and buckle can discolour quite quickly, but again this is cosmetic only. It's best to keep the collar dry, but this isn't going to be practical for most owners. Come rain or shine, walkies cannot be postponed!
In a nutshell:
Great value
Hard-wearing
Simple and elegant design
Easy to clean
Comfortable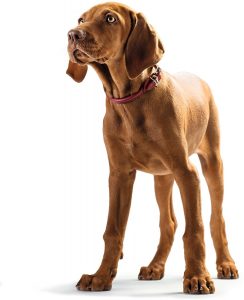 Made with rare, Scandinavian elk leather, this collar from Hunter in chilli red will look great on any pup. The rolled leather won't chafe or tangle in fur like a flat leather collar might, and is butter-soft and very comfortable as well. The nylon rope adds an inner core of strength. This collar is a little on the pricey side, but properly cared for it will last years.
Even though the collar is adjustable it can end up a little on the large side. This is because the leather is soft, and will stretch a little as it reaches the dog's body temperature so consider buying one a little smaller than you think you will need.
Some people whose dogs have light coloured fur have found that the red dye can run a little bit when wet, so it might be better to buy a non-dyed version unless you have a dark brown or black dog. That said, the shade looks vibrant against any fur colour!
Vibrant colours
Comfortable to wear
Rolled leather to avoid chafing
Adjustable
Long-lasting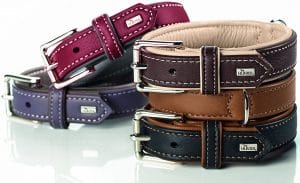 Classic in design and colour, this flat brown and tan leather collar will look great on your dog. The silver hardware looks very chic with the brown leather, and the natural colours mean no dyes that might run in wet weather and stain your pup's fur. It is comfortable too, and the luxurious Canadian elk leather won't chafe like a synthetic material or cowhide will. Like any soft leather collar, it can stretch a little bit as it warms up to your dog's temperature so you might want to consider buying it a size smaller than you need.

This is not a collar for working dogs or energetic breeds who are always full of beans! A dog that scratches can quickly ruin the look of the collar, and one that plays rough or pulls on the lead a lot might end up slipping out of it due to the softness. This collar is more about looks than durability. That said, it is fantastic quality for the price, and well cared-for will last for years.
Soft, comfortable leather
Will stretch a little as it warms up
Natural colours
Great quality for the price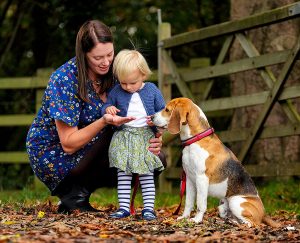 This two-tone, black and red collar from Halti features a woven nylon outer webbing for durability, and a soft neoprene lining so it's comfortable for your pooch to wear. It also features a reflective strip, making it perfect for walking after dark. The fit is adjustable, and stays put once in place. Also available is a matching harness and lead, if your dog insists on being co-ordinated.

The D-ring is pretty strong and has a black coating – this does tend to wear off after a while, leaving it vulnerable to rust. Pretty impractical, especially if your dog loves to swim or splash in puddles! The collar is adjustable, and unlike some other makes, the very small sizes fit excellently on small breeds like chihuahuas. The fastening is a button-release clip for easy on and off – this is pretty robust and will stand up to some punishment, so you don't have to worry about it giving way under the onslaught of a strong puller.


Two-tone colour
Reflective strip
Nylon and neoprene construction
Small sizes fit really well
Strong button-release clip
This collar comes in a variety of colour ways, in a fun Argyle pattern. Perfect for a Scottie! It's tactile too as the pattern is raised slightly, and all the designs are hand made. Some of the colour options even glow in the dark, which makes them ideal for nocturnal winter walkies! It's waterproof, so it's great for water-babies who love to splash in rivers and on beaches, and maybe even the occasional mud puddle. It's also super easy to keep clean, which any dog owner knows is an absolute must.

The collar is durable and hard-wearing, ideal for daily use with energetic pups who get into all sorts of things. The buckles and D ring are also extremely sturdy – but be warned, they are nickel-plated. While this is fine for most dogs, if yours has a metal allergy then this is not the collar for him or her. The size is extremely adjustable with five settings, and the synthetic material will not stretch once in place like some leather collars can. Not only that, but the colours won't fade over time, but will remain vibrant. All that, and it's an affordable price too!


Fun, tactile pattern and range of colours
Waterproof
Easy to clean
Inexpensive
Nickel-plated hardware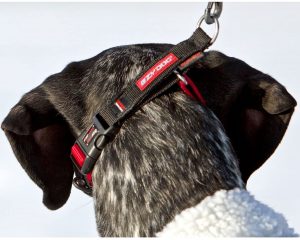 The EzyDog Checkmate collar in Chocolate is a half check nylon collar, great for dogs who are learning not to pull – or those that tend to forget their training the minute they see next door's cat… The buckle closure is a quick-clip style rather than a traditional buckle, so you don't have to worry about adjusting to the correct size every time you put it on. It's made of soft nylon, making it as comfortable to wear as it is durable. It is described as being low profile, but some people have found that it can look a bit bulky – this won't matter so much on a long-haired breed but might look a bit cumbersome on a short-haired.
The stitching is made from a reflective material, which makes your pup easier to spot at night – definitely a must if you live anywhere near busy roads. The collar is lightweight and washable, making it practical and ideal for daily use. It's durable as well and will stand up to a lot of punishment, so it's great for active and energetic breeds.
Comfortable
Quick clip buckle for easy on and off
Durable
Inexpensive
Great for strong pullers and energetic dogs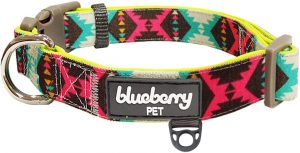 While this collar is good quality and more than adequately functional, some people have found that the colours are not quite as bright as pictured. That said, the pattern is really fun and will definitely make your furry friend the most fashionable pooch in the park! Matching harnesses and leads are also available if you really want to go all out. The collar is made of neoprene so it's easy to wash, and padded so it's comfortable to wear as well. It fastens with a clip, which while a little bulky, makes it easy to get on and off without having to adjust to the correct size every time. No easy task, with a pup who knows they're about to go walkies!
The collar has a little loop for charms or a name tag in addition to the D ring for the lead, but this loop isn't especially sturdy and will not stand up to heavy use. Make sure to buy the right size, as if you've bought one that's too big, the rubber brand label does get in the way when adjusting to smaller sizes.
Fun pattern and colours
Inexpensive
Comfortable
Easy on and off
Matching harness and lead available

These durable polyester collars from Doodlebone are a great budget-buy. They come in a great range of bright colours and are ideal for everyday use. They are machine washable too so if your dog has a habit of getting into mud or interesting smells, these collars will come up nicely in the wash.

Once adjusted to size they will clip easily on and off, but a few people with small dogs have found that the small sizes are still a little on the large side and may slip off. This is fine for indoor wear, but for walking a small dog you might want to plump for a collar that is more accurately adjustable. The clip is very durable as is the D ring; though the collar itself is also fairly sturdy, it might not stand up to a really enthusiastic puller!

The manufacturer describes these collars as soft and comfortable to wear, but a few owners have found that they can chafe a little bit. Longer haired breeds shouldn't have any problems, however. And for the price, you might as well give it a go.


Cheap
Fun colours
Washable
Hard-wearing and durable for most everyday use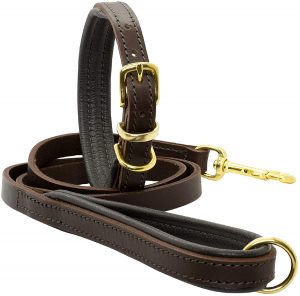 This collar and lead set from Dogs and Horses is definitely an investment at one of the highest-price collars on this list. That said, they are handmade in London to your specification as far as size and colour. The inside of the collar is padded with soft, rolled leather to avoid chafing, and the outside is made of hard-wearing saddlery leather for durability. This collar will definitely stand up to even the strongest of big dogs! Caring for this collar and lead properly will help extend their already extremely long lifespan – for an adult dog, you might never need to buy another one. They come with very good care instructions, so there's no reason you can't get the absolute best out of it.

The hardware comes in your choice of solid brass, or silver-coloured, nickel-plated brass. If you're not sure if your dog has a nickel allergy, it's a good idea to try and find out before you take the plunge! The collars and leads themselves come in black, chocolate, tan or charcoal – nice, classic colours, but if you were hoping for something a little brighter, you might be left wanting.
High quality, hand-made leather
Extremely durable and long-lasting
Padded for comfort

Red Dingo's Ziggy collar is perfect for smaller breeds. The light-reflecting design runs right around the collar, making it high visibility from all angles at night – especially important for smaller pups! It comes in several different colours too, so you can show off your little pup's big personality – and they are affordable enough that you could buy two if you're struggling to choose.

They are made of nylon so they are more than durable enough to cope with small dogs. If your dog's skin is sensitive, you may want to choose something made of a softer material as they can chafe a little bit. They are also machine washable, and the metal parts will not rust even after repeated washes. The buckle is a unique design called a Bucklebone which is made of sturdy plastic so that it's as durable as it is adorable. The Bucklebone is quick and easy to fit and remove, and adjustment to the exact size is simple too. What more could a little dog need?
Best for smaller breeds
Fun pattern and colours
Quick release Bucklebone clip
Washable
Reflective for high visibility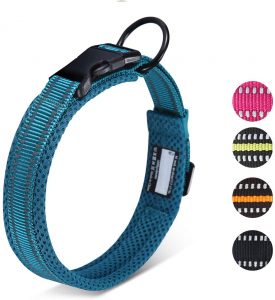 The Happy Hachi adjustable padded nylon collar is another great budget purchase. It's made of tough woven nylon for durability, and padded on the inside for comfort – no chafing here! The padding doesn't quite go all the way around the inside which might be an issue for some customers, but it's near the O ring so it's not likely to cause problems with day to day use. The O ring is made of zinc alloy so it won't rust.
Safety is important to all dog owners, and this collar includes reflective material in the nylon webbing for easy visibility at night, and the vibrant colours will help make your dog stand out in the daytime too. The nylon will soak up water so it isn't strictly waterproof, but it dries quickly and is machine washable so muddy adventures are not the end of the world for this collar. Some customers have had the stitching come away which ends up causing the nylon to fray, but those seem to be in the minority. For the price, it's more than worth the risk.
Made of durable nylon
Comfortable to wear
Reflective for safety
Washable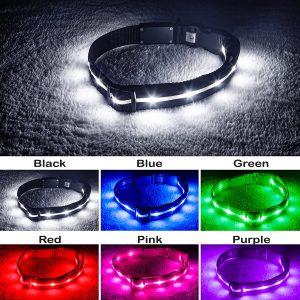 Reflective strips are great for visibility on night-time walkies, but you can't beat a flashing LED light for really grabbing your attention! Blazin' Bison's Safety LED collar is USB rechargeable so you won't have to worry about rooting through the kitchen drawer for another triple-A when it runs out of juice. Fully charged, they will last for eight hours and are visible up to 350 yards. Not only that, but they are water-resistant and come in a range of great colours, so your dog doesn't have to sacrifice style for safety. They have three modes – choose between On, Strobe, or Blink.

Some customers have had issues with the charging port, which has a water-resistant plug that fits in it while not in use and has been known to come loose over time. This means rainy walks are off the menu, which may or may not be a bad thing depending on your viewpoint.

That said, they are affordable and come with a 100% lifetime guarantee so if you do run into problems it should be a simple matter of returning it for a new one. What a steal!
Bright LED light for night-time safety
Rechargeable

Lasts up to eight hours

Affordable
Adaptil CALM on-the-go collars are one of a range of products designed to calm down nervous dogs. They work by using the same pheromone that a mother releases to reassure her puppies and calm them. Depending on what sort of situations your dog shows a fear reaction to, you might want to explore the range of products as different things work better in different circumstances. The collar works best if your dog is nervous about socialising or being kennelled, or if it's bonfire night and there are fireworks going off.

This collar is for therapeutic use only – it's not suitable to attach a lead to. For walks, you will need to use another collar in addition. They are one-size-fits-all as they can be cut to size, which saves measuring. They are best for one-time use as they can get pretty pricey to use every day – they only last a month or so. They are, however, a little more affordable than other brands.
Releases pheromones to calm your dog
One size fits all
Best for one-time or occasional use
Not suitable for attaching a lead
A simple search online for dog collars reveals there exists a wide selection of collars to choose from. Different designs colours, sizes, widths, and materials all come together to make for hundreds if not thousands of possible choices.
Unfortunately, many pet parents don't know how to properly size their dogs, which causes them to make the wrong selection. Having a dog collar buying guide makes it easier for you to make a more informed decision regarding the collar to choose, as well as how to use it properly.
1. Half-Check vs. Standard Dog Collars
As you are choosing a collar for your pet, it may be a good idea for you to first consider their daily activities as well as their needs. It also helps to make sure you have different collars on hand for different uses.
I. Half-check
Most pet parents believe the half check collars are nothing more but a training aid. However, the reality is that these collars offer many benefits, many of which aren't related to their original purpose.
Half-check collars are also known as a martingale or semi slip. This type of collar will immediately tighten up to a given limit when additional pressure is applied. While some believe these kinds of collars are cruel, this is a premise that doesn't hold as long as you buy the right one for your dog.
A properly sized half-check collar is one that can snuggly fit around your pet's neck without getting too tight and risking cutting off its oxygen. The right half-check collar can be a lifesaver, helping teach your dog when to stop pulling, which in turn ensures that you're able to walk him or her safely.
II. Standard
Compared to half-check collars, these are by far the most prevalent types of dog collars. Pet parents like them as they are easy to put on as well as takeoff. Additionally, the collar can be as fashionable or as simple as you like.
In most cases, the standard dog collars are either made from leather or nylon along with a metal or plastic buckle attached. It's recommended you use this type of collar with pets you can release from their leashes or those that don't pull.
It's also handy for those who are just looking for something to hold the ID tags.
2. Different Available Materials
Having determined which kind of collar would be best for your pet, you now have to look at the numerous types of materials used to make them each having its advantages and disadvantages depending on your dog's lifestyle. The following is a look at the most common materials used to make dog collars in 2021:
---
I. Neoprene
This refers to a soft rubber material often used in the manufacture of wet suits. It comes reinforced with nylon webbing to help increase durability, stretching limits, and its strength. Dog collars made from neoprene are recommended for pets that spend lots of time in wet areas.
Pros
Ideal for pets that have skin allergies
Moisture-wicking / fast drying
Recommended for dogs that love to swim
Extremely comfortable
Cons
More expensive
Generally thicker than nylon
---
II. Biothane
Recommended for pets that love spending time in large water pools. Biothane is manufactured from a polyester netting that has been powder coated using polyvinyl or polyurethane materials. Its biggest advantage is that it is completely non-toxic.
Biothane is considered to be a great alternative to leather and neoprene. This is because dog collars made from this material are less expensive, more flexible, and softer. Their styles and patterns are also more abundant and are considered the best where fashion is a factor.
The material is durable enough for use in all types of activities, comfortable for daily use, and doesn't break down as easily as other materials. Biothane dog collars will typically hold better than leather and nylon when dealing with dogs that chew through their collars, play rough with other pets, or those that are typically rough with all their items.
Pros
Flexible and more comfortable
Less expensive compared to leather and neoprene
Easy to clean and will not emit unpleasant odors
Waterproof
Cons
Limited selection due to being relatively uncommon
---
III. Chain
Often known as a "choke chain", this is a material that should only be used for training a pet. A dog with a chain collar should never be left unattended as they can pose a strangulation risk for any pet left alone. The risk of choking increases exponentially during colder weather when the chains can't move with ease.
If used correctly, these chains can be quite efficient, but the reverse can also happen if used improperly, causing trachea and neck damage. Being really honest, our advice is that you shouldn't use one of these.
Pros
Comes in handy when training stubborn dogs
Durable
Will not stink
Tough image
Cons
Incompatible with various types of leashes
Shouldn't be used with an unattended pet
Can be harmful when not used correctly
Downright dangerous in very cold weather
---
IV. Faux Leather
Also known as pleather or vegan leather. Faux leather refers to an inexpensive material commonly used in the manufacture of cheap dog collars. Even though the collars made from this material are fashionable and less expensive, such collars aren't as durable as those made from standard leather.
This collar isn't recommended for everyday use. If you so desire, you can use it as a fashion accessory, but be very mindful of the quality of collar when going down this route.
Pros
Is considered a potential vegan option (however, you should understand that not all artificial leathers can be considered vegan)
Comes in varying styles and colors
Inexpensive
Cons
Coloured dies can bleed or stain when they become wet
Not durable and is prone to breaking down easily
Man-made materials
Cheap materials
---
V. Leather
Dog collars made from leather are considered to be a durable, classic style that can provide a good balance between practicality and looks. Although such collars will cost more than your everyday collar, a leather collar can easily last you several years.
When shopping for a leather collar, take time to confirm it has been made from genuine leather. This calls for you to learn how to differentiate between bonded and genuine leather. Bonded leather refers to a conglomeration of scrap leathers held together using a bonding agent.
In most cases, this type of leather will look and feel like your everyday leather, but the reality is that it's an inferior product. As such, it won't last as long as genuine leather. You should, therefore, realize that a dog collar made from bonded leather won't last very long.
Dog collars made from this material are available in both rolled and flat designs. Rolled leather dog collars are meant for use with pets that have thick hair. Such hair will easily mat around the collar.
Pros
Easy to wipe clean
Durable
Breathable (helps ensure it doesn't smell)
Natural material
Ideal for pets with skin sensitivities or allergies
Cons
Coloured dies are likely to bleed or stain when wet
Limited designs
With time, it can still become smelly
Expensive
---
VI. Nylon
Dog collars made from nylon are the most common in the market. This particular dog collar category comes with a broad variety of qualities, patterns, widths, and colours. Nylon collars are considered to be multi-purpose standard collars as they can be used around the house, to attach ID tags, or when taking your dog out for a walk.
Fashion-forward pet owners and their pets are likely going to have lots of fun with the myriad of designs and styles available; while nylon is a common material, this isn't to mean it's boring in any way.
Pros
Certain designs may discourage pulling
Inexpensive
Easy to use, put on a pet, and takeoff
Unlimited variety of designs and patterns
Cons
Dogs may develop sensitivity or an allergic reaction to nylon
Is likely to become smelly over time
Difficult to clean
Less durable
---
3. Choosing a Collar Style
In your quest to find the best dog collars 2021, we would recommend you start by choosing your overall preferred style. From the start, you will have to decide on how you would like to use the collar once you have it.
Besides using it for everyday wear, will you also use it for walking, training, and identification? Additionally, does the style you have in mind meet the base requirements for doggy care, walking in the park / woods, etc.?
Some of the common dog styles you will likely find in the market include:
a. Traditional Buckle Collar
This kind of collar features a prong style buckle with holes punched into it to assist with adjustment. You can think of this collar as your typical human belt buckle. It's recommended for dogs that wear their buckles at all times. This is because they aren't easy to undo. Commonly found on buckles made from sturdy materials, e.g., leather.
b. Dog Harnesses
Even though the dog harnesses aren't typically deemed as dog collar styles, they are still an option to pet parents. A harness is a viable option for pets with delicate necks or who have proven to be strong pullers. It makes it easy to walk the dog by placing the pressure of the leash clip on the chest/body instead of the dog's neck. It also assists in preventing injuries.
c. Quick Release Buckle Collar
It's a collar featuring a metal or plastic buckle containing a male and female buckle end both of which easily clip together. Normally, this buckle tends to hold on tightly whenever one starts to pull onto it. Its mechanism is designed to make the collar come off easily when its sides get tightened.
The quick-release buckle collar is a style required at numerous doggy care and boarding facilities. This is because it enables a handler to easily remove the collar in case the collar is caught onto something.
d. Martingale Dog Collar
This particular style is recommended for pets that require a little training or those that have formed a habit of backing out of their collars. As a parent, this collar will provide you with better control over the dog when you are walking it.
e. Center Ring or Safety Collar
It's a popular style with hunting dogs or those that have a large roaming ground. The safety collar comes with an O-shaped ring created into it around halfway between both ends. It's intended to provide an additional pivot point for this collar. It makes sure the dog will not start choking if it gets caught in a rock or stuck on a branch.
4. Sizing (and How to Measure a Dog's Neck)
The measurement for the dog's neck refers to the size of the collar you will need to buy. If you hope to purchase a collar that fits comfortably and correctly, you can't afford to employ any guesswork into the buying process.
For instance, if you have measured the dog's neck and found it to be 15", make sure to select a 15" dog collar or one where 15" lies within the comfortable size range.
All collars come with adjustment holes located below and above the middle one. This will provide you with between 1-2" additional inches for use in adjusting the collar.
All you have to do is measure the dog's neck for you to find the right size. When measuring, ensure there's enough room between the collar and the neck to allow you to slip a single finger with ease. That's how you confirm whether a collar is tight or not.
Common techniques used in measuring a dog's neck include:
Using a sewing tape to measure the dog's neck.
Or
Wrapping a string around the neck. Use a felt pen to mark the string, before using a tape or ruler to measure its length.
Or
Takeoff the dog's current collar and proceed to stretch it out completely. Once stretched out, measure from the center of its buckle to the sizing hole being used presently.
What if your dog is currently in between the sizes? If you have completed taking the measurements and established the pet is in between the sizes provided, opt for the smaller size. This ensures you will not be left with extra material hanging at the end of its collar. For pups or dogs that are still growing, opt for the bigger option.
Additional Tips to Consider When Buying a Dog Collar
• When in the market for a dog collar, you have to remember that the collar is a functional accessory. You can use it to lead your pet as well as attach its tags. It also serves as a good fashion accessory, especially for pet parents who are fashion conscious.
• Buying a dog collar is similar to buying any other accessory. This means you will get what you pay for. Therefore, don't expect to get a durable item after spending a small amount of money. If you want the best, you have to be willing to spend on it.
Summary
This article has provided a well-detailed guide of everything you need to consider when buying a dog collar. It's highly recommended you set aside time to carefully consider all the essential factors, such as collar design, dog temperament, and the size of your dog. The material is also another factor you shouldn't ignore.