You have many options in collars for your dog. One of the main points you will consider when choosing a collar is the material. The most popular options are nylon and leather.

Leather dog collars are trendy because they are durable, flexible, and use natural materials. You can also get various styles to find the one that best suits your dog's needs. For example, a rolled leather collar gives you all the essential benefits, plus it works well for thick-furred
dogs.

Leather is also a nice choice if your dog has allergies that make it challenging for your pup to wear other materials comfortably. It is ideal for working dogs, so many professional dogs only wear collars made from leather.

When considering a leather collar, you should look at your options and weigh what is best. It is also vital that you ensure the collar has the right fit, style, design, and size for your dog.

Remember that leather will stretch and change over time, so you want to learn how to fit this type of collar to ensure it keeps your pup safe and serves its function for the long term.

We know there are many options on the market. It can be mind-numbing to try to filter through all the products to find the one you want. To help make it easier on you, we've looked over various products to find the best leather dog collars in multiple categories and provide you with a review of each.
What Are the Best Leather Dog Collars of 2021?
We want to be sure to offer you the best of the best. We know your dog likely has specific needs in a collar, so we made sure to list top choices in different categories. You should be able to find the right pick for your pup from this list of best leather dog collars.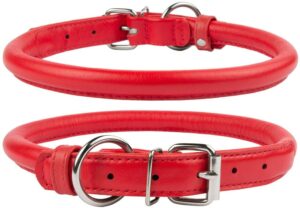 The CollarDirect Leather Collar is a rolled leather, which looks like a tube. It is an ideal design for dogs with long hair because it won't damage hair or allow it to tangle.

The collar comes in sizes that fit 15.24 cm to 53.34 cm. You can also choose from a variety of 13 colours. They are all bright for visibility. The plain design allows you to style it as you choose.

The product is a treated, soft genuine leather. It is also handmade with solid stitching. The collar is durable and uses high-quality hardware.

It's a natural leather that is non-allergenic and won't stain the fur even if it gets wet. It lays smoothly on the neck and is soft to the touch.
Pros:
Soft and supple

Handmade high quality

Many colour choices
Cons: 
Ends of collar fray easily

Very thin width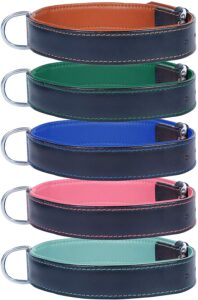 The Ace Dog Collars Comfy Leather Dog Collar ranges from 35.56 cm to 76.2 cm2/3 with smaller collars at about 1.7 cm wide and larger ones going up to 3.81 cm wide. The whole collar features soft lamb's leather.
You can get various colours. Most are black on the outside with the colour portion on the inside, including royal blue, tan, pink, baby blue, and forest green. You also have a brown with tan lining option. Do note the tan looks orange.
These collars are handmade with hand stitching and double-ply leather. The anti-run stitching uses twin needles. It has a soft leather padding and solid chrome buckle, and a D ring. The collar has no rivets.
Pros:
Very strong

Well made

Comfortable padding

 
Cons:
No loop to hold down extra collar length for smaller necks

Sizing appears to run small even based on measurements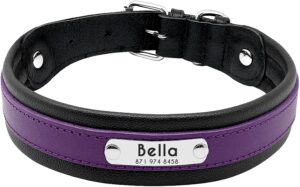 The Pet Artist Studded Leather Dog Collar with Name Plate lets you personalise your pet's collar to put an ID permanently fixed to the collar. The engraved nameplate allows for two lines of text up to 30 characters.
This collar comes in purple, black, blue, brown, red, and hot pink. It is only available in sizes 30.48 cm to 62.23 cm.
The collar features two layers of padding made from genuine leather and a nickel-coated steel alloy buckle with a D ring. The middle layer of padding is thin in width for ultimate comfort.
Pros:
Very sturdy

Cleans easily with a damp cloth

Nameplate attached securely
Cons:
Doesn't fit small dogs

Not much room for printing on the nameplate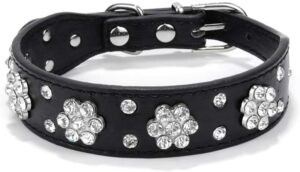 The UVONOKAY Rhinestone Leather Dog Collar features a flower pattern rhinestone design along the length. It is glitzy and glamourous for the pooch with style.
Sizing is available from 21.08 cm to 38.1 cm, and it is 2.54 cm wide. The collar has a buckle closure and comes in four colour choices: pink, red, black, and blue.
The alloy plated buckle and D ring are rust-proof. The PU leather features strong stitching. It has five eyelets for easy adjustability. 
Pros:
Rhinestones are secure

Durable

Easy to put on
Cons:
Not suitable for dogs that like to chew or rough house

Not available for large dogs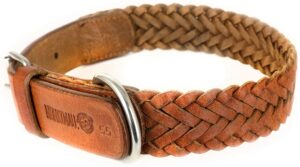 This Monkimau Collar is a braided leather design. It is adjustable but only comes in large sizing from 40 cm to 62 cm.
It is available in hour colour options, which include brown, black, beige, and red. The collar adjusts with four eyelets, and it is 30 mm wide.
This handcrafted collar has soft padding and genuine leather. It features a sturdy buckle, reinforced seams, and heavy-duty eyelets. It is also weather resistant.
Pros:
Lightweight

Braiding is beautifully done

Great for large dogs
Cons:
Not incredibly sturdy due to thin leather

Stretches badly
The Rosewood Luxury Leather Dog Collar has a soft touch leather finish. It comes in a two-tone colour and offers silky-smooth comfort.
The solid chrome buckle allows for easy adjustment of the collar for a perfect fit. It also includes a Rosewood heart paw charm on the D ring.
The collar ranges in size from 20.32 cm to 60.96 cm. It has a narrow width and features only the highest quality materials. 
Pros:
Well made

Strong buckle

Stands up to rough dogs
Cons:
No loop to hold the end of the collar when in smaller adjustments

Not available for large dogs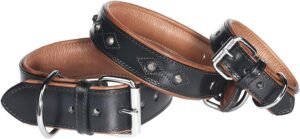 The Pet First Leather Rivet Collar is a handmade brown and tan collar. It features vegetable tanned full-grain leather with a leather lining and a buckle closure.
The collar comes in adjustable sizing from 26.92 cm to 49.79 cm. It is stain-resistant and water-resistant. You'll only need to occasionally wipe it clean as it is low maintenance but will last for years.
The high quality of this collar means it will continue to maintain its looks with age and should stand up to regular use.
Pros:
Water and stain resistance

Minimal care

Handmade
Cons:
Limited sizing

No colour choices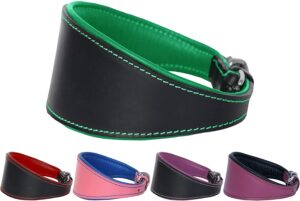 The Ace Dog Collars Traditional Leather Dog Collar suits greyhounds and whippets the best. It is available in 25.4 cm to 49.53 cm and features a dual colour style. Colour options include black, green, purple, pink, and blue.
This particular collar is the original Ace Leather design. It is wide around the back and thins to the buckle.
The collar features double-ply leather with hand stitching and is handmade. It has soft leather padding and decorative stitching on the outside that matches the interior colour. The buckle and D ring are solid chrome. 
Pros:
Protects fur and skin

Sturdy

Comfortable
Cons:
Leather is stiff

Not a lot of interior padding
Things to Consider
The eight best leather dog collars on our list are all wonderful choices, but you can't just buy one of them because we say they are great. You want to choose the best collar for your dog. To narrow down the options and ensure you buy a suitable collar, you want to consider the following factors:
Fit
Fit refers to how the collar sits on your dog's neck and how comfortable it is. Fit ties closely in with size because the right-sized collar will generally fit well. However, you also want to consider the overall fit.
Think about how wide it is compared to your dog's neck. A too wide collar is uncomfortable. It may cut into your dog's neck when it moves its head. If it is too thin, it may easily get lost under fur, defeating the purpose of having a collar to which you attach tags or a leash.
Sizing
Size is one of the most important considerations you have to make. You must ensure the collar you buy is not too tight. It can choke your dog and even lead to strangulation.
On the other hand, it can't be too big. It'll slip right off and also could pose a considerable strangulation risk.
The general rule is that when on your dog, the collar should have enough room for you to put two fingers only between it and your dog's neck.
It is essential to check the fit often. Weight fluctuations, growth, and seasonal fur changes can make a collar tighter or looser.
You can usually determine the correct size to buy based on your dog's weight, according to Canine Journal:
| Weight | Collar Size |
| --- | --- |
| 5 pounds and less | Extra Extra Small |
| 6 - 10 pounds | Extra Small |
| 11 - 25 pounds | Small |
| 26 - 55 pounds | Medium |
| 56 - 75 pounds | Large |
| 76 pounds and up | Extra Large |
Style
There are two general styles of dog collars: flat and martingale. A flat collar is the standard style with a straight length of material connected on the ends with a snap or buckle. They work well for almost all dogs.
The AKC explains martingale collars are better if your dog has a small head and easily slips out of a flat buckle collar. This style tightens on the neck when there is pulling or tension. You can easily adjust how tight it gets.
Design
The design of a collar refers to the different elements. It may be designs in the material or the type of closure used. It can also include rolled collars that are like tubes that will help prevent hair damage and tangling. Design is largely subjective as everyone will have specific designs they prefer over others. You should look at the options and figure out what design features best suit your dog.
Closing Summary
Deciding to buy a leather dog collar allows you to give your pup a stylish and practical collar. It is an ideal material if you want something that will last a long time and look better with age.
The numerous benefits, including comfort and durability, make leather dog collars a top choice for many people. You should always weigh your options to determine if a leather collar is the best product for your furry friend. 
Ensure that you look over the best leather dog collars on our list because we feel they are the best on the market. Find the one that suits your dog and will work the best for your needs.
Frequently Asked Questions
What Is The Best Leather Dog Collar?
The best leather dog collar is something you have to determine for yourself. We can tell you what we think is the best, but that may not suit your dog.
To make this determination, you should consider how comfortable it is for your pup. Think about the fit and if it does the job you want. A collar that fits well, is comfortable, and gets the job done will be the best collar to choose.
Are Leather Collars Better For Dogs?
When comparing leather collars to nylon, which is the other most popular choice, you'll find leather has many advantages. To begin with, it is much stronger and more durable. You can expect even the toughest dogs not to be able to ruin this collar. 
It is also a very comfortable material because it will soften up over time. It won't cut your dog's neck or tear up the fur. This also makes it more comfortable for you when grabbing the collar.
What Is The Best Material For A Dog Collar?
As you now know, leather is fairly superior to nylon. It is the best material for a comfortable and secure dog collar. It will last for a long time, whereas nylon you have to replace often because they wear out or become grungy looking. 
It will cost you a bit more upfront, but since it lasts longer, it is actually more cost-effective in the long run. Finally, it requires little care. You may need to wash your nylon collar often, but the leather will only look better as it naturally ages.
Do Leather Collars Hurt Dogs?
Leather is quite comfortable for dogs. It will soften as it comes in contact with the oils in your dog's skin. While it may seem stiff at first, it is breathable and much softer than the edge of a nylon collar.
What Are The Safest Dog Collars?
Safety is a matter of design and use. Any collar can be unsafe if it gets caught on something. Breakaway collars are the safest simply because they have a buckle or closure that will come open as any sign of resistance. 
Obviously, though, you can't use that type of collar to put your dog on a leash or tie it out. In those cases, you simply want to use a collar that lies flat on the neck. Avoid choker collars or those with prongs. These hurt your dog and can cause injuries.
Are Collars Uncomfortable For Dogs?
Flat and martingale collars are comfortable for a dog to wear. Any collar can be irritating if it rubs your dog's neck or is too tight.
PetMD explains collar comfort depends on finding a good fit and size for your dog. It also shouldn't be too stiff or too wide. Your dog will generally let you know if the collar doesn't feel good by scratching or chewing at it.