When it comes to our families, we all just want the best. We want a happy, healthy, and safe life for everyone we love. This is true for many families worldwide, including those with four legs covered in fur. That's right—we're talking about puppies. 
Dogs are pets like none other, and while they come with a list of necessities, their toys may be one of their top priorities. 
Toys not only keep your dogs occupied, but they are great for stimulating them mentally. And although you will spend tons of time playing with them, toys are also excellent for your dog's alone time. 
Today, we're going to talk about a handful of the best dog toys of 2021. This guide will showcase the importance of a wide variety of toys and highlights key features of some of my personal favourites.
We don't want to keep Fido waiting any longer, so let's get right to it!
Product Reviews – The Best Dog Toys
In my experience as a dog owner, I have come across many toys. Some proved to be worth the money, while others didn't last 24 hours in my house. Below, I've reviewed some of the best I've seen in my day.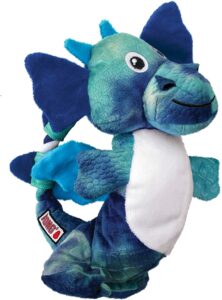 If you've ever owned a dog, you've probably heard of the famous dog toy brand KONG. These toys are known for their stellar durability, making the KONG Dragon Knots a top-tier choice for rambunctious puppies. 
This toy comes in various colours and is filled with knotted ropes on the inside, rather than stuffing. Because puppies find great pleasure in brutally destroying stuffed toys, this is a positive note. Your puppy can explore their instincts, and you can enjoy the minimal mess.
Plus, a squeaker inside amplifies the fun!
Pros 
Minimal stuffing for minimal mess

Knots inside help quench natural puppy instincts

The squeaker adds more engagement 
Cons
Construction is not so durable
Nervous dogs have a tendency to be a little more destructive and accident-prone; not because they're bad, but just because they need a little extra love. When you can't be home for your nervous pup, you might find solace for them in the All For Paws Little Buddy.
This unique toy aims to tackle feelings of anxiety or loneliness by creating intimacy through a simulated heartbeat. This simple addition to a plush toy brings it to life and helps to combat negative behaviours. 
Not only is the toy adorable, available in the heartbeat sheep and the warm puppy, but it's also easy to clean and soft. Watch out—this toy might replace you as your dog's best friend. 
Pros 
Heartbeat sound calms anxiety

Machine washable

Can prevent negative, destructive behaviour 
Cons
Must use batteries to work 

Heavy chewers can easily rip it open

Is your dog an absolute fiend for fetch? My dog is constantly bringing toys to throw, and it always seems to disappoint her that I can't throw them very far. However, the ChuckIt! Sport Dog Ball Launcher offers the perfect solution to release your dog's pent-up energy. 
This simple device features an ergonomic rubber handle that lets you pick up the ball without even touching it (goodbye, slobbery hands!). With even just a casual movement, you can easily throw the ball so much further than before, sending your dog running. 
The ChuckIt! Sport Dog Ball Launcher comes in several different sizes and is sure to step up your park game, and your dog is bound to go crazy for it. 
Pros 
Easy to use device

Smart design allows you to throw the ball further

Eliminates the need to touch slimy balls

Several size options that work with various ChuckIt! balls
Cons
The ball it comes with is not super durable 

Some users may experience a bit of a learning curve for throwing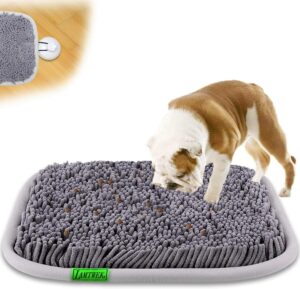 As a pet parent, sometimes you just need something that's going to keep your four-legged child occupied. Perhaps you need to fold laundry, or you're entertaining guests. Either way, the LAMTWEK Pet Snuffle Feeding Mat is a great choice. 
This mat is a highly unique doggo accessory. The fuzzy, soft polyester top mimics the look of grass, creating a space where you can hide treats and small toys. Your dog will love to sniff through it and try to find everything you've hidden.
Not only will this keep your pup busy for quite some time, but it also helps to train their sense of smell. A bored dog is a destructive dog, so this toy can be a real game-changer in your home.
Pros 
Keeps any breed busy and active 

Non-slip design 

Environmentally friendly

Machine washable and dryer safe 
Cons
Gets dirty and smelly quickly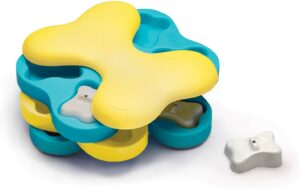 Sure, dogs have lots of physical energy. But ask yourself this: are you exercising them enough mentally? If you have a bored dog who takes it out of your stuff, you need to try one of these Outward Hound dog treat puzzles.
This is actually a set of products, and you can choose which one you want based on your dog's skill level. They range from easy to expert, and each toy features a very different design that hides treats for your dog to figure out how to get to. 
Great for boredom, easy to clean, safe, and stimulating—you really can't go wrong here. 
Pros 
Tons of different setup options for varying levels of skill

Excellent for occupying your dog's time

Easy to clean
Cons
Not great for dogs who chew everything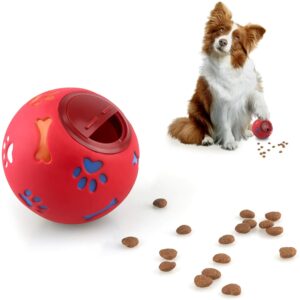 Does your dog hound you for treats on the regular? If so, you need to try out the MEKEET Dog Puzzle Feeder Toy. The PVC and rubber ball houses any kind of treats you want, with a user-friendly opening that adjusts to fit your needs. 
Once you fill the ball with treats, you can close the opening to leave just a small space. After all, we want this to be a bit of a challenge for your pup to keep them busy. It's great for hectic days when you just can't give them the time they deserve. 
Pros 
Highly stimulating for bored, anxious dogs

Easy-to-use design

High capacity holds a lot of treats and food
Cons
Too small for large dogs

Dogs chewing may damage the lid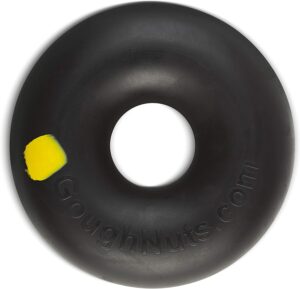 The Goughnuts Virtually Indestructible Ring Toy certainly lives up to its name. Heavy chewers will have a hard time making a dent in this ring. It's made from the same kind of rubber engineered by professionals for spaceships and aircrafts. Does it get much tougher than that? 
This simple ring design comes in several toughness levels and sizes, so you can cater the toy to your pet's needs. Their sizing chart helps you determine the best size for leverage and safety. 
Pros 
Professionally engineered rubber is extremely strong 

Keeps dogs entertained for hours

Easy-to-clean design

Doubles as a fetch toy 
Cons
Will not float in water

Must buy proper size and strength to meet needs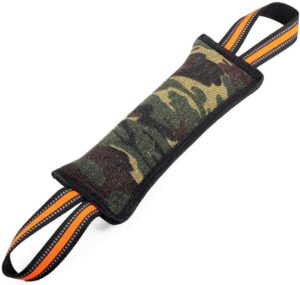 Bolster your tug of war games with the Dotoner Dog Bite Tug Toy. This extra tough product is designed for tug of war, featuring a handle on either end. The camouflage pattern adds to the fun too. 
The handles are a nice touch, as they allow your dogs to play with one another and double as a good grip for you. It's designed to withstand up to 90kg and functions as a great training tool as well. 
Pros 
Multipurpose toy

Well made with good construction

Innovative design is easy to play with
Cons
Not design for heavy chewers

Does not float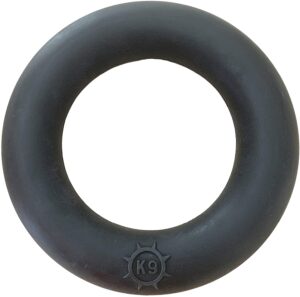 Some dogs break past their chewing phase as they get older, but others will be chewers as long as they live. For the latter, give the Monster K9 Ultra-Durable Chew Toy a shot. The simple ring design features industrial strength rubber that has been rigorously tested on some of the heaviest chewers the brand could find. 
Not only is it tough, but it's safe; made from non-toxic, verified materials. The rubber is all-natural, and it won't hurt your dog's teeth like harder toys. Put this toy to the test with your tough chewer.
Pros 
Highly durable against even the toughest chewers

Made with safe, all-natural materials

Lifetime replacement guarantee
Cons
Simple design may not interest all dogs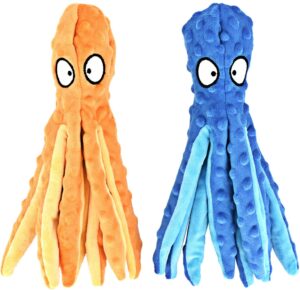 This list of things we'll do for our dogs goes on and on – including putting up with loud, squeaking toys. If your dog is a fan of squeaky toys, take a look at the RIO Direct Plush Octopus Dog Toy. 
Available in two fun colours, these plush toys are soft, comfortable, and lightweight. They're perfect for both playing and sleeping, and they don't have any stuffing, leaving you mess-free. 
Instead, the contents contain just the squeaker and crinkle paper. The noise alone is enough to keep your pup occupied as well as minimize anxiety. 
Pros 
Machine washable 

Fun noises keep dogs' attention 

No stuffing means no mess

Made with safe and non-toxic materials
Cons
Not designed for heavy chewers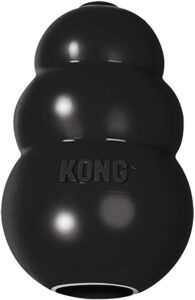 As a pet owner myself, I can't say enough good things about the KONG brand. Some of their toys are simply classics, and their Extreme Dog Toy is one of them. 
You've probably seen the unique, bumpy shape before. This solid rubber toy is heavy-duty and great for rough players and tough chewers alike. But its most underrated feature is its hollow inside. This KONG toy is perfect for stuffing with treats, which only adds to the fun for your dog. 
You can squeeze hard treats inside, or you can coat it with liquid cheese or peanut butter—whichever is your pup's personal favorite. They'll spend the next several hours dedicated to getting that treat out.  
Pros 
Several size options available for different breeds and life stages

Rubber construction is durable 

Easy to fill with treats for additional stimulation and satisfaction

Fun shape leads to unpredictable bounces 
Cons
Smaller sizes can be dangerous for large dogs

Extreme chewers can rip off pieces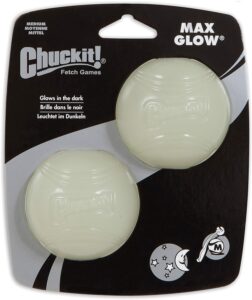 Who says the fun has to end when the sun goes down? Whether you're on a family camping trip or you simply don't want the game to end, the ChuckIt! Max Glow Dog Ball has you covered when it gets dark outside. 
This ball gives you the same high-quality, high-durability, high-bounce construction that ChuckIt! Always delivers, but with one added feature: it glows in the dark. The glowing component lets you and your dog see the ball, creating high visibility for endless hours of nighttime fun. 
To recharge the light, simply place the ball under a bright light for a mere matter of minutes. The result will be a bright orb that you can spot flying through the dark sky. The durable rubber is easy to clean, too.  
Pros 
High-quality, durable rubber with great bounce

Glowing feature prevents you from losing the ball

Ball fits with the ChuckIt! Launcher

Stands up to heavy chewers
Cons
Do not float in water

Hard to see in the snow
Things to Consider
Many pet parents have learned pretty quickly that just because they make it for a dog, doesn't mean a dog will like it. 
There are many other lessons to be learned along the way, but it's best to read about them below rather than experiencing them firsthand and having to deal with a sticky situation.
Safety 
Pets are a part of the family, so our top priority with them should be their safety. These days, a lot of dog toys are made with safe and highly regulated materials and ingredients. However, that doesn't mean they're all safe for your dog. 
Safety considerations can include things like the size of a toy, materials used in a toy, and even specific allergies that your dog may have. For that reason, it's critical that you check out the details of a toy before you buy it. 
The same goes for any kind of toy that has small pieces or a toy that easily breaks and splinters. The last thing you want is to have to rush your beloved pup to the animal hospital, so take safety very seriously.
Durability 
Toys don't grow on trees, and neither does money. Durability is key to a great dog toy because you know it will last you and your pup a long time. 
As a pet parent, there's nothing worse than bringing home a brand new toy for your pet only to see it destroyed by bedtime. While some of this comes down to knowing your dog's habits and chewing tendencies, it also depends on toy durability.
If you're looking for a toy that will last long, I suggest sticking to good, old-fashioned rubber toys. There are also some pretty tough nylon toys on the market that can prove to be contenders. Just be sure to do your research and purchase toys that will last to get the most for your money.
Washable 
Dogs are capable of making some pretty big messes on their own, so it's helpful to have a toy that you can wash easily. Whether they drag it outside in the mud or drop it in their food bowl, having a washable toy can save you a lot of headaches.
Some plush toys are machine washable, while other rubber toys can be tossed in the dishwasher along with your plates and bowls. Once they've been washed, they're good as new and you don't have to worry about them ruining your home.
Fun and Engaging
A dog will only play with a toy that they are interested in. As we'll say many times over in this article, it all comes down to your dog and its personality. Some dogs are highly entertained by the mere thought of chewing on a bone. Other dogs need something a little more exciting to capture their attention. 
Be sure to purchase dog toys that will keep your dog engaged. You might try puzzle games, treat toys, or squeaky toys if you're having a hard time catching their attention. The goal is to keep your pup interested in the toys you buy.
Happy Dog, Happy Life
Even if your dog is far past his puppy stage, he still needs lots of proper love, attention, and engagement. Buying the best toys for him can help you keep him engaged and entertained. 
Playing with toys is not only fun for your dog, but it keeps him away from other destructive behavior. 
Toys also offer a great way to build a lasting bond with your new puppy. Your pup will quickly learn where the toys are kept. And, if you play with her regularly, she will know to bring you a toy when she wants to play. 
Every dog is different, though; if you want your dog's toys to be effective, you have to consider your pet's preferences. You know your dog better than anyone else, so you be the judge! Use this list of dog toys to get you started.
Frequently Asked Questions
What Toys Do Dogs Like Most? 
While every dog is different, we can at least categorise the types of toys that most dogs tend to go for. They are:
Chew toys

Squeaky toys

Puzzle toys

Tug toys

Fetch toys
You can likely look at all the toys in your local pet store and put each of them into one of the above categories. 
All of these types of toys are popular among dogs who enjoy playing alone, with their owner, and with other dogs. But like we mentioned above, each dog is different and will have varying preferences when it comes to playtime. 
If you're unsure what your new dog likes, try buying one toy from each category. You can give them all a shot and see which one he gravitates towards the most.
What Is The Best Dog Toy? 
Again, this is a tough question to answer because it will always depend on the preference of the dog. It also matters what you mean by the word "best." 
For instinct, if by "best" you mean most durable, then you might find that the KONG assortment of puppy and dog toys is the best. But if "best" means most engaging, then you might find that one of the treat-dispensing toys on our list is the best. 
Pay attention to your dog and his specific needs, and move on from there to find the best dog toy for his style of play.
What Toys Will Keep A Dog Busy? 
Many of the toys on our list offer the most fun when you're playing with your dog. However, sometimes you just need your pup to remain busy and entertained. 
If your dog gets anxious when he's alone, then the Heart Beat Sheep is a great toy to keep him occupied and calm. 
The LAMTWEK Put Snuggle Feeding Mat is another great option for keeping your dog busy, as it hides treats and toys to keep them searching for hours on end. 
I also recommend using any of the chewing toys on our list to keep your dog entertained.
What Is The Most Durable Dog Toy? 
There are a couple of different toys on our list that are considered extremely durable for aggressive chewers and rough players. One of the most durable dog toys is the Monster K9 Ultra-Durable Chew Toy, which features strong, natural rubber in the shape of a ring.
Another highly durable option is the Goughnuts Indestructible Ring. It uses reinforced natural rubber; in fact, it uses the same kind of rubber designed by engineers for spaceships and aircrafts.
Out of our list today, those two options are probably your best bet.
Why Do Dogs Rip Stuffing Out Of Toys? 
There are a few different reasons as to why your dog likes to rip open plush toys and pull out all of the stuffing.
The first answer to this question simply has to do with your dog's instinct. In the wild, a dog would do something very similar to this in order to catch and eat other animals.
Dogs also rip stuffing out of toys when they're bored. The action is an activity in itself and offers stimulation to a puppy who may be looking to release some energy and have a little bit of fun.
Finally, your dog may be acting out of frustration. Perhaps your dog is feeling mad, sad, or anxious. You may find this happens more often when your dog is locked in a room or a crate.
Is There A Toy My Dog Can't Destroy?
If your dog is anything like mine, then the short answer to this question is no. In reality, it's hard to confidently call any dog toy 100% indestructible. Of course, there are many toys that are certainly durable, like the Monster K9 Ultra-Durable Chew Toy and the Goughnuts Virtually Indestructible Chew Ring we talked about above. However, it's safe to say that every toy will see signs of destruction over time—even if it's little by little.