When you welcome a new puppy into your family, you invite a whole bunch of responsibility in too. Getting a new puppy requires patience, training, and a crate. A crate is a puppy phase necessity to keep your four-legged friend from running rampant throughout the house while you're away. 
A crate also prevents your puppy from destroying furniture and clothing, and it gives them a safe space to retreat to as needed and at the end of a long day. Just as you retreat to your bedroom for some alone time or relaxation, your puppy can go to their crate, their domain, for rest and downtime. 
More than just a safe space and preventative measure, you should consider the other reasons why you need a crate. For instance, if you plan to take your puppy on holiday with you, you might want to consider a transportable crate. If you want to train your dog to stay outside, you'll likely need a highly durable crate.
You also want to consider crate upkeep too–no one purchases a crate because it's difficult to clean or requires a complicated setup. So, when you look into a crate that best suits your dog, you should also look into how much effort you'll need to put into upkeep.  
Regardless of your need, the crate you buy should give your puppy enough space to lie down, stand and turn around comfortably. To help you make an informed decision, we've compiled a list of 9 dog crate choices best for different needs along with detailed explanations for things to consider when purchasing and frequently asked questions. 
Keep reading to find out which crate is the best option for both you and your dog. 
9 Of The Best Dog Crates For 2021
Finding the ideal dog crate depends on many different features, including your needs alongside your dogs. Dog crates also come in different styles, such as plastic, metal, and soft. Below, we've compiled a list of the 9 best dog crates in 2021 for every need and crate type. 
From the best folding metal cage to the best crate for travel, we've thought of them all. Take a look at the list below to figure out which best crate best suits you and your dog.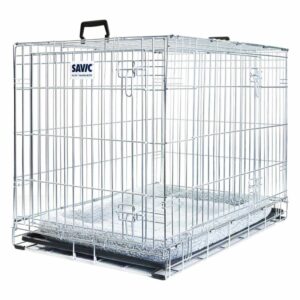 While this cage consists of metal, it has a comfortable cushioned bottom to provide your dog with some comfort. The mesh construction provides your dog with panoramic views of its surroundings so that it never feels isolated or punished when it goes inside. It also has two doors for two entry points, depending on where you plan to set the crate up. 
When it comes to storage and travel, this folding metal cage is incredibly easy to take down and transport. The crate comes with two removable handles that you can attach to move the crate with ease as you see fit. If you need to store the crate, you can fold up the equipment in just a few hand movements. 
The cushioned bottom is also removable and machine washable for a swift cleanup. Depending on your dog's size, the folding metal crate comes in varying sizes to accommodate dogs large and small while maintaining enough space for their comfort. 
Pros:
Removable handles 

Removable and machine washable cushioned base

Range of sizes

Two-door entry
Cons:
Bulky design 

Mesh spacing wide enough for paws to get caught in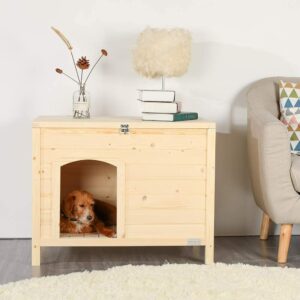 If you're looking for a dog crate at the same time you need a new end table, you're in luck with this crate as it doubles as both. The Petsfit wooden dog house is a sturdy crate that's raised slightly from the floor and has an arched doorway. 
Instead of using the crate as only a dog crate, you can situate it in the room of your choosing as a piece of furniture too. Its sturdy top accommodates lamps, books, and other decorations. Despite its size, (53cm x 78.5cm x 61cm) the interior area is actually more suitable for smaller dogs than large with 74cm x 48cm x 47cm dimensions.  
If you don't like the idea of the crate's dual purpose, you can always break it down easily for storage purposes. The wooden top opens up with hinges on the backside. From there, you can lift the bottom and fold the entire crate like an accordion for flat storage.  
Pros:
Dual-purpose as furniture

Foldable 

Paintable 

Durable
Cons:
Not suitable for large dogs

No door

Bulky design

Not ideal for transport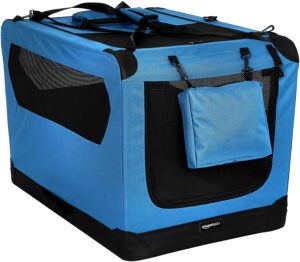 Choose from royal red, bold blue, or neutral grey when you purchase the AmazonBasics premium soft crate. This soft-sided crate is ideal for travel purposes as it comes with multiple mesh windows for ventilation and a set of velcro handles for carrying. 
The crate has two points of entry, one from the front and one from the top. Both entry points zip open and shut. You can also roll up the front mesh doorway and velcro it into place to let your dog know that it can enter and leave as it pleases. For maximum comfort, the crate comes with plush bedding lining its base.
AmazonBasics' soft-sided crate comes in varying sizes to accommodate your dog. The 53cm option is ideal for smaller breeds, such as terriers and toy poodles, while the most significant 107cm option best suits retrievers, labradors, and Pitbulls.   
Pros:
Well-ventilated

Easy zip-up entry points

Plush bedding

Transport friendly

Collapsable 
Cons: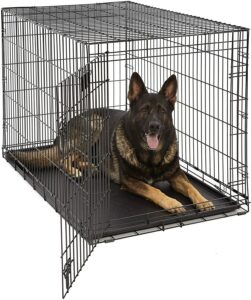 For those of you with large dogs, whether a loveable lab or a cheerful Chow Chow, squeezing them into a tiny crate is not only cruel but unnecessarily gruelling. Instead, you can use this crate option to contain your furry beast comfortably. 
MidWest Life Stages amicably named its metal crate for its ability to house a pup from birth to late age, no matter its full-grown size. The crate ranges up to 122cm x 76cm x 84cm with consideration for the divider. The cage comfortably fits dogs up to 71cm tall and 91cm long. This crate also folds down easily for storage or travel needs. 
Since the MidWest Life Stages cage is metal, it's painless to clean. You can also get the crate with either a single or double door, both with secure side locking latches to prevent any escape artists from worming their way out at inconvenient times.  
Pros:
Easy to clean

Spacious 

Varying sizes

Foldable 
Cons:
Doesn't come with a plush base for comfort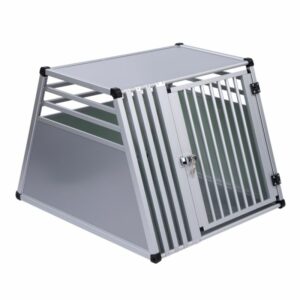 Despite its odd, trapezoidal shape, the AluRide crate is incredibly durable with a lightweight aluminium composition and provides comfortable space for a dog. The crate rounds off at the edges to minimize injury to both you and your pooch. Plus, AluRide designed the locks and edges with high-quality plastic built to last and withstand abrasions. 
The ideal travel straps are equally durable as the company designed them with hefty polyester fabric to resist tearing and duress during transport. The crate has a grid door with vertical bars to give your dog proper ventilation and space to see out, and the covered top gives your dog some reprieve from the sun while you travel. 
Ultimately, this heavy-duty dog crate is ideal for travel. Its trapezoidal shape lets it conveniently slip into tight car spaces. The crate also comes in different sizes to comfortably fit small and large dogs. If you need to store the crate when it's not in use, you can disassemble it in a few easy steps. 
Pros:
Ideal for travel

Different sizes available

Incredibly durable

Rounded edges to prevent injury 
Cons:
More intensive cleaning required

A bit more challenging to assemble than a standard folding crate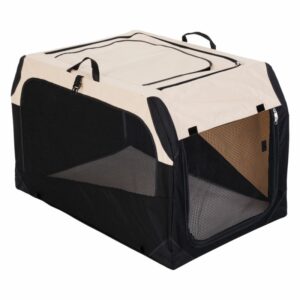 If you plan to set up and use your crate outdoors, we think that the HUNTER transport crate is the ideal choice for you. This crate doubles as a transport kennel and an outdoor dog house because of its reinforced nylon composition. The nylon fabric is resistant to rigorous weather, including rain and wind–or both–and has a sturdy metal frame to maximize stability. 
You can unzip the lid and place your pooch in from above or roll up the front door for convenient access. These zippable entry points also make the crate easier to clean as you're able to reach all of the nooks and crannies. 
Besides its durability and stability, the HUNTER transport crate comes with a soft, plush, removable base to give your dog comfort. When you need to wash the crate, you can remove the bottom and toss it in the wash. For even more reprieve, the mesh windows provide smooth, consistent airflow, which your dog will want when outside. 
Pros:
Highly durable

Easy to clean

Doubles as a crate and doghouse

Weather-resistant
Cons:
Breakdown and build requires some work

Mesh front prone to tears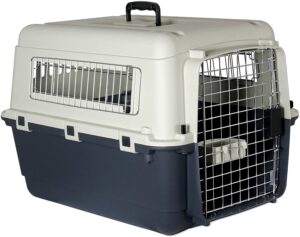 When searching for the best plastic dog crate, we came across a bunch that looks like it. For the most part, these crates have the same standard design. However, when you look more closely at the features and specifications for plastic dog crates, you'll notice the significant differences. Because of these differences, we've chosen the Karlie plastic dog crate as the best option. 
While it's a plastic crate, the specific material composition is incredibly lightweight, making it convenient to carry around or load into a car for transport. It also has three windows that accompany the door for maximum ventilation and views. 
To get your dog into the crate, it can simply walk through the front door. If your dog is particularly stubborn, especially before a vet trip or other anxiety-inducing trip, you can unlatch the entire top half for a smoother transition. The necessary safety screws for transport don't require intensive tools or effort to undo. Instead, you unscrew them with your fingers. 
Pros:
Easy to clean

Durable

Weather-resistant

Transport friendly 
Cons:
Does not break down or fold up for storage

Not ideal for large dogs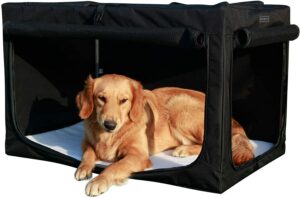 When you put your dog in their crate, especially at night, you might want to provide them with complete darkness to prevent distractions and induce sleep. If you're looking for a crate with this feature in mind, you'll want to consider this Petsfit crate that comes with a cover that you can zip and unzip as needed. 
The top to the crate isn't the only crate aspect that zips open and closed either. This crate has two wide doors on the front and side to open to provide your dox maximum airflow and views outside. All of these flaps, including the cover, can velcro to the side of the frame. 
This crate is highly durable with a reinforced metal frame to maintain its shape. Unlike other crates, the Petsfit fabric crate has a soft bottom to keep your pup comfortable. When it's not in use, the crate folds up flat for easy storage and maximizes your space. This crate can also double as a transport carrier if you plan to travel with your dog. 
Pros:
Versatile cover top

Easy to build and takedown

Sturdy metal frame

Well-ventilated
Cons:
Only available in two sizes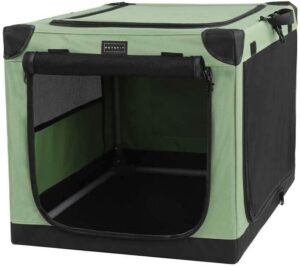 For the best of both worlds, travelling at static placement, the Petsfit indoor outdoor soft crate works well. Petsfit built the crate for travel, so you will find it easily foldable for storage and transport. It also has soft, sewn-in handles for you to grasp and carry as you need. The fabric and lightweight composition make it ideal for carrying as well. 
The crate comes with rounded corners to prevent possible injury and does not come with intense locks, but with smooth zippers. You can open the crate from either the top or front dependent on you and your dog's preference. The mesh windows around the side and on the front entryway allow air to flow through without preventing your dog's view from inside. 
While the crate is soft, it comes equipped with a sturdy metal frame to maintain its shape. It also comes in three different sizes and two different colours to suit your tastes and your dog's size. The smooth surface is perfect for a plush pad or dog bed to keep your dog comfortable.  
Pros:
Easy to set up and take down 

Dual purpose

Rounded edges to prevent injury

Well-ventilated
Cons:
Doesn't come with a plush bottom

Difficult to clean
Things to Consider
You should consider a few things you'd like it to accommodate, such as safety, hygiene, and cleaning, size, durability, and looks before you purchase a crate. You should also take into account your intended use for the crate. You don't want to use the crate too often and you don't want to use it to replace good training practices.
Safety
Your crate may keep your dog comfortable, but will it keep your dog safe? Safety is crucial when purchasing a crate. Putting your dog into a hazardous device can result in injury or even death, and that is not the purpose. 
Comfort, in the case of crates, goes hand-in-hand with safety. Some things to look for concerning safety include ventilation, choking hazards, and confinement. You want to give your pup a comforting and safe space, so look out for a crate with beneficial safety features.
Hygiene and Cleaning
Part of your dog's comfort means keeping the crate clean and hygienic. Asking your dog to stay put in a dirty, confined space seems to mean because it is and your dog may refuse to enter. DIrty crates can lead to illness and mental distress, especially if your dog has soiled the crate and you don't clean it up. 
Going hand-in-hand with cleanliness is choosing a crate that's easy to clean. To ensure your dog's safety and comfort, you'll want to look for a crate that you can get into and scrub down effortlessly. Crates that you can clean with ease often have various access points or contain wipeable surfaces.
Size
Determining the size crate you need is one of the most vital components to consider before purchasing. No matter your dog's size, whether a bulldog or a Burmese, you want your dog to feel comfortable in the space. Ideally, your dog should be able to lie down, stand, and turn around with ease. If your dog cannot, then space is far too small and your dog will not want to get inside. 
You also want to consider the crate's purpose when choosing a size. For instance, if you plan to transport your dog with you during a car trip, you'll want to buy a crate that can fit inside your car. If you purchase a metal crate solely because its size can accommodate your dog but not on how well it will fit in your car, you will face some difficulties when it comes time to travel.
Durability
Durability is essential for travel and outdoor storage. You want your crate to last long, which means purchasing one that's made from high-quality, sturdy fabrics and materials. 
If you look for a fabric crate, consider looking at ones that incorporate nylon since it is known for its weather and tear resistance. You'll also want to look for one with a metal frame as metal can hold its shape longer and withstand damage.
Looks
Looks aren't everything, but they still matter, especially if you plan on keeping the crate up and open in your home year-round. To find a crate that best suits your aesthetic, you might want to consider crates with different colour options, which you'll most likely find in a soft crate rather than a plastic or metal crate. 
However, metal crates tend to blend in with their surroundings since the gridwork doesn't capture attention.
Crates Aren't a Replacement for Good Training
Crates, while convenient, cannot and should not replace good training. A popular use for crates is to train puppies to "hold" their bowel movements throughout the night because a dog won't soil their sleeping space. 
However convenient this may seem, resist the urge to train your dog this way. It's a bit cruel to teach a puppy to hold its bladder for long durations of time because it's too young to do so. 
You also should never use the crate as a punishment during training. The crate is supposed to serve as the dog's safe space, or bed at night, not an area that it's forced to go when it does something you don't like. Using it as a punishment if your dog, say, pees in the house or tears up your slippers will confuse your dog. It should only go willingly into the crate. 
Stay consistent and practice best training methods instead of using the crate to do so. These ideals will create a better bond with your animal and yield better results than you might see with crate training. 
Overuse Can Be an Issue
Crates are great for keeping your pup safe during travel and keeping them contained while you're at work or while you sleep at night; however, locking your dog up in the crate too frequently or for mundane happenings becomes an issue. 
Your dog loves you and wants to hang out with you, so keeping them shut away in their crate will cause some distress, such as anxiety, depression, and crate rage to name a few complications. Dogs who suffer from these afflictions tend to present more aggressive behaviour, frequent in-house accidents, destructive behaviour, and more. 
Closing Summary
If you hadn't considered a dog crate before, you might want to now. A dog crate is much more than a box to stick your dog in when you don't feel like playing with them. That's the exact opposite of a crate's purpose.
Instead, a crate is a safe space for your dog to seek refuge in as they see fit. It's also a convenient little house to keep them safe while you travel. Plus, a crate can serve dual purposes as a carrying case and a dog house if you need it.
While a crate is beneficial, you still need to consider some requirements before your purchase. You should purchase the crate in the correct size for your transport needs and accommodate your dog's size. You want them to rest comfortably after all. You also want a crate with high-quality safety standards to ensure your pooch is protected. Plus, you don't want to purchase a crate that's difficult to clean or impossible to build from the box. Otherwise, you won't get much use out of the device. 
Maybe most importantly, you only want to use the crate as intended since overuse and in place of good training can result in traumatic, lasting mental effects.
Frequently Asked Questions
What Brand Of Dog Crate Is The Best?
What Brand Of Dog Crate Is The Best?
We could name some global, expensive brands out there with tons of sales, but we wouldn't do you any favours with that. There is no such thing as the "best brand." Instead, there's only what brand works best for you. 
You could spend over 100 pounds on a big, name-brand crate that doesn't fit in your car or is hard to clean, or you could purchase a lesser-known brand that gives you everything you want in the crate. Ultimately, the best brand comes down to what best means to you. 
What Kind Of Crates Do Dogs Prefer?
We prefer a soft crate. Soft crates typically double as transport carriers which is ideal during long car rides. We also like soft crates for their mesh, well-ventilated windows, and the ability to roll up the door.
Some dogs don't go in his crate too often, but being able to leave the door open for them to give them the option is nice for when they want to curl up for a shaded nap. 
Which Is Better, Kennel Or Crate?
Much like brands, the choice between a kennel and a crate depends on your need. Do you plan to travel with your dog, or do you want more of a permanent dog house? A kennel isn't suited for transport while you can use a crate for both travel and housing.
Some sources will say that crates are cruel; however, crates only take on a cruel reputation if you use them for terrible reasons. As stated previously, overuse or using a crate in place of good training can result in undesirable behaviour and other complications.
When used in these ways, a crate can become cruel. If you use the crate minimally and only as you genuinely need it, a crate is not a cruel device but a comforting space.