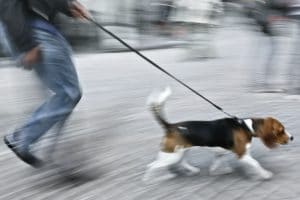 ---
This post is courtesy of a friend of Pet365 – Dolittles Dog Walking – who are based near to Milton Keynes in the UK. Lea comes highly recommended so if you're local, take a look at her site and get in touch.
---
When you are a quite busy or even just when you have an exuberant dog that needs a lot of exercise, you'll find that it is worth your while to hire a dog walker. A dog walker can ensure that your dog stays healthy through staying active, and you'll find that they can allow you to take care of chores or business while your dog is out of the house. They are also perfect for people who need to work during the day, as they will prevent your dog from getting lonely. However, how can you make sure that the dog walker you hire is worth what you pay them, and that they will be good for your dog?
Regulations
First, remember that dog walking is not a regulated field. Anyone can declare themselves a dog walker, and when you realize that you are putting your beloved companion into their hands, this can be a little scary! The key to getting a dog walker you can trust is to be very diligent about investigating the people who apply.
Recommendations
Secondly, start with people that you know. Do they have dogs, and do they have recommendations regarding the walkers? What do they like about their own dog walker, and what do they dislike? This is something that can make a great deal of difference when you are thinking about how you can find the right person.
Ask Questions!
When you are meeting up with prospective dog walkers, write down plenty of questions that you want to ask them. Ask them who they have worked for, and if you can call their references. What are their rates, and how long have they been in business? A professional dog walker will be insured; are they insured? What kind of activities do they do with the dogs in their care, and do they take the dogs away from the area?
Working with Dogs
Ask the dog walker how they deal with behavioral issues. Do they deal well with dogs with special needs? Tell them about any quirks that your dog might have and ask them how they would deal with problems should they arise. Think about whether your dog has issues with fear or aggression, and see how the person would deal with those issues.
Gut Feel (both you and your pooch!)
If you have a fairly good feeling about the dog walker in question, introduce them to your dog. See how your dog acts around them, and whether you like the way that they interact with the animal. One great way to figure out how you feel about the dog walker is to pay them for a one-time walk, and then to shadow them. Observe how they handle your dog and how your dog responds to them.
A dog walker can be a great choice when you are a busy person, or even when you are just injured and need some time to recover. Before you hand your dog over to someone new, however, make sure that you are willing to trust them. A small amount of preparation in this field goes a long way!