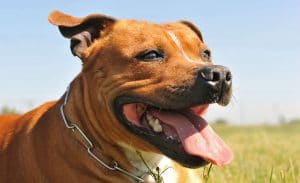 The Staffordshire Bull Terrier finds its roots in the world of 19th century British fighting dogs. Bred from bulldogs and other local terriers, the Staffordshire Bull Terrier was known for its courage and gameness. A dog was considered "game" if he was willing and able to keep at a certain task despite the risk of injury. In the area of bull baiting, it was crucial for a dog to be game.
Before it was made illegal, bull baiting was considered entertainment. A bull would be brought into market and attacked by dogs. This had the added "benefit" of tenderizing the meat. The dogs that showed the most skill and strength survived this type of game, so these were the traits that breeders looked for.
In 1835 bull baiting and dog fighting were made illegal. Because it was easy to conceal, dog fighting continued underground, but as a whole the Staffordshire Bull Terrier became nearly forgotten. In the 20th century, however, interest in them began to rise. They were bred to be a little bigger than their ancestors and to have a less aggressive temperament. Today they are a popular companion for experienced trainers.
Small yet strong, Staffordshire Bull Terriers are muscular and athletic. They average 36 to 41 centimetres at the withers and weigh 11 to 15 kilograms. Their faces are short and wide with small ears. Their tail is thicker at the base than the tip and is carried low.
The breed's coat is short and smooth. It comes in a variety of colours that include black, white, faun, brindle, and blue. White may be blended in with any of these colours. The coat sits very close to the body, giving the dog a somewhat streamlined look. Grooming is not a big chore with this breed – a weekly brushing is usually all that's needed. Rubbing the coat with a towel will make it quite shiny.
The Staffordshire Bull Terrier has come a long way from its fighting roots. Instead of a tenacious fighter, owners of the breed find themselves with a courageous, intelligent companion. This breed is fond of people and shows this by excitedly jumping around and nuzzling the people he likes. For some people this can be off-putting, so this breed is not recommended for those who want a calm, quiet pup.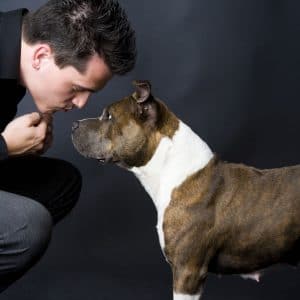 While today's Staffordshire Bull Terrier is much more easily adaptable to a family atmosphere than its predecessors, it should be noted that they are not for everyone. People who want a docile, submissive dog will not find one here. Instead, everyone the family must be willing to "be the boss.". Those who are able to be dominant yet gentle will have a great time with this energetic dog.
This breed is generally healthy, although there are a few conditions they are prone to. Issues with the eyes are common for this breed, especially cataract problems. Hip dysplasia happens occasionally, as do tumours.
Staffordshire Bull Terriers are dogs that are able to adapt quite easily to different owners and environments. This can be a bit of a problem as it makes them quite susceptible to dog-nappers. Owners of this breed should be especially careful to keep an eye on them in public, as they're quite friendly to most people and may wander off with some unscrupulous person if the opportunity arises.
Socialization with other puppies at a young age is important with this breed. If they grow up without being socialized they may begin to exhibit combative behaviours with other dogs, especially if those other dogs consider themselves to be dominant.