Dublin Dog collars are not new.  In fact we've stocked them on Pet365 for a while now, but I felt that it was high time we gave them a review.  With a water loving Giant Schnauzer puppy in the family, I was keen to get a Dublin Dog collar on him and really put it to the test.

There are a variety of different styles, colours and sizes available to suit all sizes of breeds, but we picked a collar from the Classic Stripes range and Milo needed a large size (17-21 inches or 43-53cm).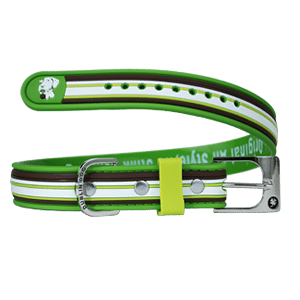 The first thing you notice about this waterproof collar is that its looks and feels very robust.  Made from some form of complex polymer (I would describe it as rubber) it feels well made and the chunky silver coloured buckle with the branding stamped into it finishes it off well.
One of the biggest problems we've had with Milo's collars in the past is that they don't last very long – at all!  At 18 months old, he has lots of energy.  We spend most of our walks trying to keep him out of hedges and ditches as nothing, when you're his size, seems to get in your way!  Not only that, he is a really 'dirty' dog and his collars quickly become damp and mouldy, from being dipped in some kind of ditch, lake or puddle, or covered in something unsavoury.
So how did the collar fair?
Milo has had his collar on for nearly 7 months now and we've been really impressed with it.  A quick wipe with a damp cloth every few weeks has kept it looking really smart, and almost like new.  He regularly swims in it, drags it through hedges and rolls it in something icky, and every time if comes up trumps!  Due to the material its made from it doesn't harbour any smells, which is of real benefit with a truly outdoor dog.  We haven't tried it in salt water, but with all collars I'm sure that if its rinsed thoroughly after use you shouldn't have a problem it.
Pros – They wear well, don't smell and are easy to keep clean

Cons – The sizing means they can look a bit bulky on smaller dogs
To conclude
We liked the Dublin Dog collars so much that our smallest family member, Lola, is also sporting one at the moment.  Milo very much likes to pick Lola up by her collar if he gets the chance, so we were getting through a lot of them.  The Dublin Dog collar, on the other hand, has stood up to this and is still going strong with no obvious signs of wear and tear, teeth marks or splits.
Overall I think these are a great buy and if you're looking to only ever buy one collar for your dog, this might just be the one!
If I were going to find any fault in the collar it would probably be with the sizing. If you have a smallish dog with a large enough neck size that the small size won't fit, you'll probably find the medium looks too bulky on your dog.  For that reason, we had to look for an alternative collar for our third dog.