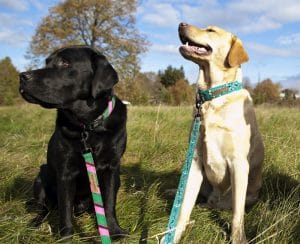 Being real fans of the Dublin Dog All Style No Stink collars, we were really excited here at Pet365 when a new range of products from Dublin Dog arrived.
The eco-lucks range is made from used plastic bottles, which in my mind makes it an excellent eco-friendly product.  According to the guys at Dublin Dog, it takes approximately 1.5 bottles to make a dog collar and 2.5 bottles to make the leads, keeping lots of waste out of landfill.
My first impression of the collar was that it looks and feels really nice quality.  The plastic buckle carries the Dublin Dog logo, which is a nice touch.  I'm not overly keen on the eco-lucks label on the collar, but it is inoffensive and since putting it on our dog I haven't noticed it!  Don't ask me why, but considering that these products are made from plastic, I was expecting the material to feel stiff and scratchy.  I couldn't have been more wrong.  The collar was soft and supple and had a nice feel about it.  The D-ring is made from the usual high quality hardware used by Dublin Dog and has a special coating making it waterproof.
The designs for this range are both refreshing and unique and include some unusual colours.  I particularly liked the Cherry Blossom range, which features a pretty floral design in some fresh and bright colour-ways.  The colours are not those typically found in other collar collections and I found it was nice to choose something a bit different.  All of the design printing is done using water-based inks, which has the benefit of containing no chemical by-products (another plus point as far as I was concerned!)
Lola, the smallest member of our family, has been sporting the Ivy League Socialite collar for the past 3 months and it still looks absolutely brand new.  Being a miniature schnauzer, people often mistake her as a dog (I'm guessing it's the beard that does it!).  This collar was pretty enough with pink running through the design, but being the 'tom-boy' that she is, wasn't too girlie, so seemed like the perfect choice.  I haven't had to clean it yet (although I'm sure a quick wipe with a warm soapy cloth would do it) and the colours are still as bright and vivid as when the collar was first put on her.
The only thing I have to hold my hands up to not having tested thoroughly is the strength of the buckle when used with a lead, as I generally use a slip lead on the dogs.  However, our dog's collars are removed when they're in the house meaning the buckles get regular use.  The buckle has done well with this and shows no sign of wear; still providing a snug and stiff fit.  We have also had no complaints from the many customers that have bought them over the last 3 months either.  Based on my experience of the Dublin Dog products I'm certain that they will have been through rigorous testing already!
As with other Dublin Dog products the collars are fully guaranteed against manufacturing defects, which is the cherry on the cake for a superb product! So, consider it as an option if you don't know what to get your dog for Christmas.
The price tag isn't the cheapest you'll find on the market, but with the bonus of being made from recycled materials, and seeing how it is wearing so well, I would suggest it is money well spent.