We all know at least one dog lover who ends up being horrendously tricky to buy for at Christmas… which is where our big list of goodies comes in. From clothes and jewellery to handy dog related accessories, we've scoured the web to find the best of the best. Enjoy!
Waifs & Strays Treat Bag – £34.99
http://www.pet365.co.uk/products/Waifs-and-Strays-Training-and-Walking-Treat-Bag.html
The Treat bag from Waifs and Strays is the ultimate in stylish accessories for dog walking and training.  The bag is made from a waterproof, waxed cotton, which is beautifully trimmed with a soft sude.  The nylon interior is perfect for keeping treats fresh and tasty.
The bag features a toggled drawstring, which makes opening and closing the bag quick and easy.  All of the clips are made from the same great quality solid brass that is used on the collars and leads.
Finished in a dark green colour with tan trim, the bag measures approximately 14cm x 14cm.  The bag also features a handy zipped pocket on the back of the treat bag, which is perfect for storing keys, phone and other valuables when you're out and about.
Wolters Picobello Poo Bag Holder – £9.99
http://www.pet365.co.uk/products/Wolters-Picobello-Poo-Bag-Holder.html
The Picobello Poo Bag Holder is new from Wolters.  Carry your dog poop bags in style, with this doggie shaped holder.  Press his eye and his nose lights up – a handy feature for those darker morning and dusky evenings.
The Picobello Poo Bag holder comes with an LED battery.  Comes with a roll of 10 poop bags, although you can fill it with your own bags if you want to.  Refill bags are also available.
Available in a variety of colours, it makes a great gift for someone – or even yourself!
Incorporates a clip to attach to keys or a bag.

Tiffany & Co. Scottie Dog Charm – £100
Express your personal style with sterling silver charms. Tag charm in sterling silver. Spring clasp allows easy attachment to bracelet or necklace.

Hamish McBeth Crystal Terrier Earrings – £7.99
http://www.dogorama.co.uk/products/Hamish-McBeth-Crystal-Terrier-Stud-Earrings.html
Adorable little crystal stud earrings for any Terrier lover. Also available as a drop earring design.
Nickel-free/non allergenic.
Hamish McBeth Terrier in Paris Necklace – £14.99
http://www.dogorama.co.uk/products/Hamish-McBeth-Terrier-in-Paris-Necklace.html
Live la vie on rose with this charming little necklace of a Westie and the Eiffel Tower. A Romantic little accessory that anyone would love.
Chain length 50cm / 20".
Nickel-free/non allergenic.

Beagle Womens Instasia Jumper – £69.95
If you've got a scent of style, this intarsia jumper should bound its way into your wardrobe sooner rather than later. A true British country classic.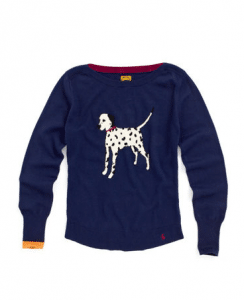 Womens Dalmatian Knitted Jumper – £69.95
Cool, cosy and comfortable. Take a walk on the wild side this season with our latest collection of must-have intarsia animal jumpers.

Louche Schnauzer Jumper – £45.00
http://www.joythestore.com/louche-schnauzer-jumper
Following in the paw prints of 'Sammi the Sausage dog' and the famous 'Kat': meet Schnauzer, the new 'top dog' of our cute and conversation intarsia collection. The super-sweet and mischievous canine takes pride of place on the front of this classic crew-neck jumper in soft-touch, cotton knit. In rich teal it boasts a retro finish and is perfect for autumn; think walks in the park and chic shopping trips with friends.Features: Super-soft cotton knit, long bracelet sleeves, schnauzer character motif to centre front, round neck, slim fit, ribbing to cuffs & waistband.

Love My Dog Wall Sticker – £24.00
http://www.notonthehighstreet.com/
Nutmeg's adorable puppy wall sticker is perfect anywhere within the home. Nutmeg's beautifully designed wall stickers and wall quotes are a stylish modern way to decorate a room or carry out a room makeover, without the mess.
Precision cut and made from high quality matt vinyl. Size: 45 x 37cm
Purple 'Ella the Dog' Mug – £4.80
This is a purple 'Ella the dog' mug from the Ben de Lisi collection.
Dishwasher safe
Microwave safe
H/Diam: 9 x 8cm
Fine china