Halloween is approaching. Have you found your costume yet? Sure, you'll get some laughs for dressing up as Spiderman, but Spiderdog is guaranteed to get everyone's attention!
Halloween simply wouldn't be complete without dressing up your pup. Whether you're hosting a party or simply want to put on a show for the trick or treaters, we've got 10 ghoulishly good costumes for your dog. So if you love Halloween, make your pet a part of your experience this year. He or she will be forever grateful (okay, that might be a lie but they'll forgive you eventually!)
Teenage Mutant Ninja Turtle
Leonardo, Donatello, Raphael and Michelangelo – We all dreamt of being a Teenage Mutant Ninja Turtle when we were younger didn't we? Now your dog can live out that dream with this Leonardo pet costume. Available to buy from Halloweencostumes.co.uk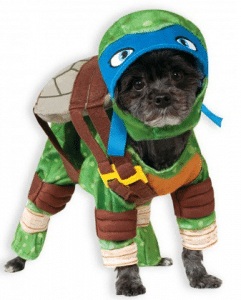 Mr. T
"I pity the fool" who doesn't love this costume! Gold chains? Check. Mohawk haircut? Check. From the ghetto of Chicago, you can now dress your pup up as hard guy, Mr T. Available to buy from Halloweencostumes.co.uk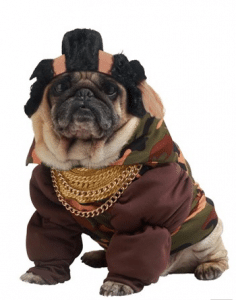 Scooby Doo
Yes we see the irony here (dressing your dog up as a dog) but this isn't your average dog… It's Scooby Doo. Now your own pooch can portray the lovable cartoon canine in this clever costume. And you never know, he might start solving cases of hauntings, monsters and unexplained occurrences too. Available to buy from Angels Fancy Dress.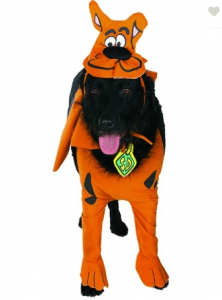 Indiana Jones
Introducing Dr. Henry Indiana Jones. Turn your pet into a professor, archaeologist, and adventurer with this legendary Indiana Jones costumes. From trying to recover the Cross of Coronado from people suspected to be grave robbers to going face to face with a lion on a circus train, there will never be a dull moment when your pup puts on this costume! Available to buy from Angels Fancy Dress.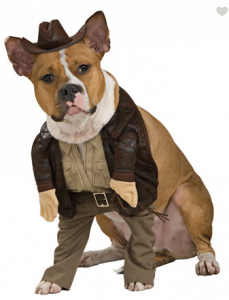 Tarantular
We love this tarantular dog costume. Adorable or just outright scary? You decide! Available to buy from Halloweencostumes.co.uk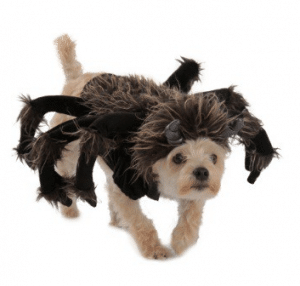 Beetlejuice
The 1988 American comedy horror Beetlejuice is a huge hit and this Beetlejuice costume is ideal for Halloween. Dress you dog as the crazy haired, rude and crude "gonzo" spirit Beetlejuice and see the reaction you get! Avaialble to buy from Halloweencostumes.co.uk