Going on holiday with your dog need not be stressful. In fact, it can be really good fun. Staying in the UK and exploring the wonderful sights we have available on our own doorstep is a key theme this Olympic-Jubilee year. If you're about to embark on your first trip with your dog, or are a seasoned vacationer, we thought it would be useful to review a few of the products that are available at the moment, that are designed with you and your dog in mind when on holiday, or out on day trips. These were our top 5 favourites!
1) The Dicky Bag from Duck Soup Co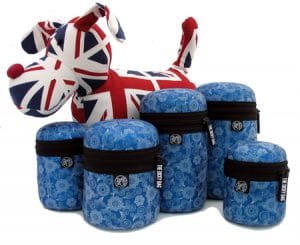 For those of you that don't know what a Dicky Bag, it is a simple yet effective idea. Made of high quality neoprene, the bag is cylindrical in shape and zips closed to keep used dog poop bags out of sight, and smell free, when you're walking with your dog. Being well served by dog poop disposal bins around our home where we usually walk our dogs, it wasn't until we made a trip to the beach did the bag really come into it's own.
Many beaches I've visited with the dogs have poop bins in the car parks, but these are often a long walk once you've made it to the water and not doable unless at the start or end of the walk. Featuring a belt clip (or I prefer to use mine with the optional shoulder strap) the bag carries a roll of poop bags, meaning you don't get caught short. Air freshener discs in the bag also mean that when filled with used bags, there is absolutely no nasty niffs when sealed. A perfect store-away for those pesky bags until you're able to find a bin to dispose of them to.
Available in 2 different neoprene finishes, a range of patterns and a number of different sizes (I use the large bag for my 3 dogs) there is a bag to suit everyone! I would list it as a must have for day trips and holidays.
2) Planet Dog Weekender Bag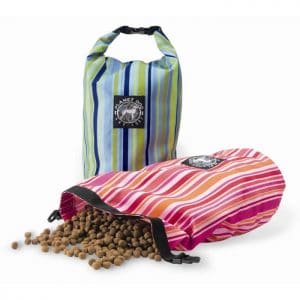 If you're holidaying with a small dog, or popping off for a long weekend with your pack, the Planet Dog Weekender Bag is the perfect food storage companion.
This bag holds approximately 30 cups of dried food, which is more than enough for most small breeds. The bag is made from a hard wearing poly-canvas, which has a water resistant coating, and he fact that I could machine wash it and air dry in between uses was brilliant. I loved the bright summery colours that they were available in too, and I've now discovered matching treat bags so will have to investigate those too!
With 3 dogs, one of which is particularly large, one bag on it's own wasn't enough to hold many days food for the pack, but I've used it to great effect to hold all of the treats and nibbly bits that they are used to having throughout the day!
3) The All Style No Stink Collar from Dublin Dog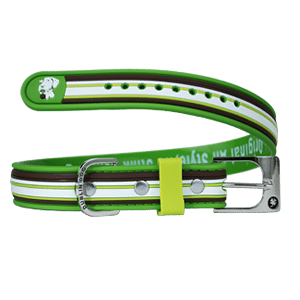 I've written about these collars before and I love them! Made from a polymer that doesn't harbour dirt or smells, this collar is waterproof and easy to clean; a must for our big dog when we go away as he loves to swim.
Dublin Dog have recently launched some new colours of their favourite designs, and we will be grabbing one of those when they land in the UK in the next couple of weeks for our trip to Suffolk at the end of August.
4) EzyDog Adjustable Car Seat Belt Attachment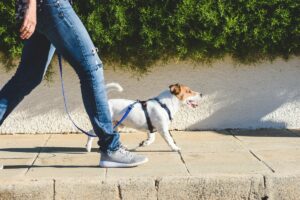 Not the most exciting of products, but probably one of the most important. If you usually have your dog travelling inside the car with you, it is essential to ensure they are properly secured in the car. Not only does this help minimise distractions, and potential accidents, from dogs jumping about when you're driving, it also helps ensure the dog's safety should you need to stop suddenly.
There are lots of different seat belt attachments available, but we loved this new version from EzyDog. The clip made is easy to attach to any harness, which is perfect if you already have a suitable one for your dog, and it was adjustable meaning I was able to determine how much movement my dogs had when 'plugged in'. I was easily able to provide them with enough length for them to be able to stand, sit and lie down meaning they could get comfortable, and that I would have a quiet trip!
5) Dublin Dog Roxxter Dog Toy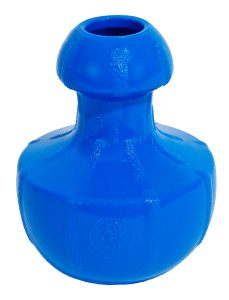 Weather is something you can never guarantee if you're going on holiday in the UK. For that reason I always like to have something packed to keep the dog's amused if the weather isn't so nice, or if I fancy a couple of hours without the dogs to do something cultural.
The Dublin Dog Roxxter is a great way to keep the dogs amused and is quite small, so is easy to pack. Made from a hard wearing rubber material, the Roxxter bounces, rolls and floats and also has a treat chamber in it, which I love to fill with nice goodies. It also smells of sweet vanilla too!