We asked Holly, our budding Cocker Spaniel volunteer, to try out the Hamish McBeth Grooming Kit. Fortunately for us, Kate, her owner, was able to provide us with the written review! Keep reading to see what Kate really thought of the grooming kit!
Holly's always been our first baby but now she has two toddlers to compete with she doesn't get a huge amount of pampering so when Pet365 offered a chance to review the gorgeous Hamish McBeth grooming kit I jumped at it.
The only difficulty was choosing between the short hair and long hair grooming sets. Because Holly's a working Cocker Spaniel she doesn't have a particularly long coat but she does have long hair on her ears and before being groomed she still had her winter coat which had become very scruffy and long.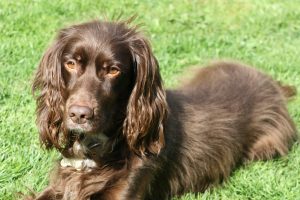 The main difference between the two is that the long hair set includes a multi blade stripper comb and the short hair set includes a shedder comb. I've used a multi blade stripper before with great results but they can be very expensive to buy. At the moment I use an Ancol Ergo stripping comb (similar to the shedder in the short hair set) and although it gives a good finish it doesn't take away much hair at a time so is rather painstaking to use, especially when you have a dog that has ants in their pants. Therefore a plumped for the long hair set so I could try out the multi blade stripper.
The long hair grooming set contains slicker brush, double sided comb, large rake and a multi blade stripper. It also comes with a really handy storage bag, which has almost as much appeal for me as the other stuff, I've always been a sucker for a bag!
It did take quite a while to groom Holly but that had nothing to do with the products at all and more the fact that she can't sit still for more than 30 seconds at a time! As soon as you start to brush her back or sides she turns into a performing seal, starts doing backflips and ends up on her back with her legs in the air. Not particularly helpful when you want to actually brush her back and sides!
The only part of her coat that really suffers from matts is the back of her legs and behind her ears. The double sided comb was perfect for untangling these. The large rake was a little too big for the majority of her coat but was fantastic for grooming her ears. It normally takes quite some time to groom her ears and brush all the tangles out using the rake was much quicker and did a far better job than her normal brush.
The multi blade stripping comb was great but it took a little time and patience to get her to sit still enough so I didn't catch her with it. The edges are curved so that the blades don't actually touch the skin at all but when she was scooting around the curve of the comb would catch her every now and again so I had to bribe her to sit still by holding a treat in clutched tightly in my hand just in front of her nose.
The stripping comb did do a great job of removing what was left of her tatty winter coat. It has two sides, one with 9 wide blades for thick, coarse coats and the other with 17 blades for finer coated dogs. I tried both sides and the wider blades (which also seem to be a little sharper) worked well at first. However, once the majority of the hair had gone that side didn't pick up a lot so I then turned to the other blades and managed to strip a bit more to make her coat look even tidier.
I don't normally use a slicker brush but now she's seen what she's been missing out on I guess I'll be using it a lot more. She absolutely loved being groomed with the slicker brush and for that part she did actually manage to keep a little more stationary. I'd probably liken it to her getting the best scratch ever.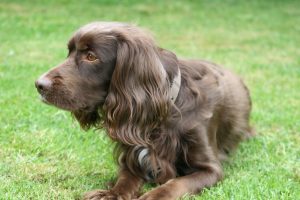 The only thing that I would consider the Hamish McBeth grooming set 'may' be missing is a pair of scissors just to tidy up those really unruly bits, although I appreciate not all dogs will need that. It's just that Holly needs a haircut every now and again as the hair on top of her head grows quite rapidly and she begins looks like a real crazy mutt without a little trim every now and again.
In all the grooming set is an excellent product. It's really good value as I've seen grooming bags alone which retail at around £15.00 and with this set you get all the brushes and combs you need to groom your dog and a stylish little number to stash it all in.
It was really nice to spend a little time with Holly grooming her and having some fun taking before and after pictures in the garden. She's all soft and tangle free……now she just needs a bath!